Below is given in steps the method Statement for Liquid Water proofing for Wet areas in a building project.
Preparation for Work
Clean all surfaces free of dust, laitance, foreign material etc, by stiff wire brushing. oil and grease should be cleaned using a chemical degreaser and wash with clean water and allow to dry.
Remove all high spots from concrete surfaces and attain a light steel trowel followed by a fin hair broom finish.
Remove moss and lichen manually and treat surfaces with a fungicide. Wash the surface thoroughly with clean water and allow to dry.
Metal surfaces should be cleaned free of all paint, oils, rust and other contaminants. Abrade the surface well to expose bright finish and wipe the surface with a cloth dipped in Fosroc solvent.
Priming:
Normal sound & clean surfaces need not to be primed. Porous concrete substrate will have to primed using a 1:1 mixture of Nitoproof 600 and Fosroc Solvent.
Bituminous surfaces should be primed using nitoprime.
Cracks Filling / Treatment
Treat all shrinkage and nonmoving structural cracks with a 1.3mm coating of Nitoproof 600 extending 75mm on either side of the crack.
Allow the coating to cure overnight prior to commencing general application.
Right angle bends
Install a cant strip or covering detail on all right angle bends.
From the cant strip or covering in either sand and cement or plastijoint and it must be bedded in to a layer of Nitoproof 600. Follow it by a reinforcing pre-treatment by application of a 1.3mm thick coat of nitoproof 600 extending 150mm on either side of the coving. whilst wet embed a 150mm wide strip of nitroproof Scrim in to the nitroproof 600 as the reinforcement.
Allow the treatment to cure overnight prior to commencing general application.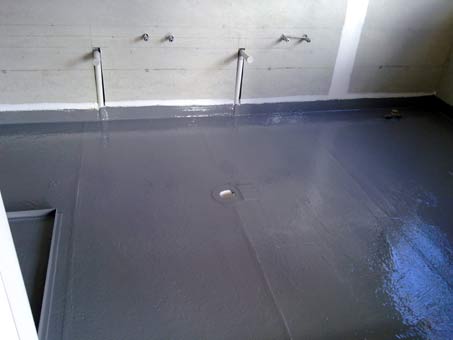 Application of Liquid Water Proofing
Apply nitoproof 600 using a brush, trowel, squeegee or graco spray pump.
The application of Nitoproof 600 should achieve the minimum 1.3mm.
On vertical surfaces the film build of 1.3mm is achievable in two coats. Apply the second coat at right angle to the first.
Flood Test
Ensure that the membrane is fully cured before conducting the flood test. Flood the surface to a minimum depth of water for a period 24 hrs.
Curing and Protection
Nitoproof 600 should be cured for a minimum of 24 hrs before placing protection.
Apply a dust coat of cement on the cured membrane to prevent adhesion to the board.
Coat all exposed areas of nitoproof 600 with Nitoproof reflectcoat, to ensure maximum resistance to UV radiation.