The purpose of this method statement procedure is to define the step by step method to implement the correct practices for the testing, precommissioning & commissioning of "Disabled Toilet Alarm System".
Through the guidelines contained herein so as to ensure that the job execution complies with the project requirements and serves the intended function to satisfactory level.
TOOLS / EQUIPMENTS
Portable Hand tools
Step Ladder
Insulation Resistance Tester
Continuity tester
Precommissioning for Disabled Toilet Alarm System
Ensure that the Disabled Toilet alarm field devices installation is complete and mechanical completion is approved.  Ensure that no damage has occured between mechanical completion & precommissioning.
Check for proper installation of electronic modules, pull cords, indicator lamps & zone controllers. Check the zone controllers are as per the number of electronic modules. Check the necessary display stations are provided at the BMS room. Repair / replace damaged components, if any.
Cable Testing
Upon completion of glanding of the cables, the cables will be tested with a standard industrial insulation tester.
The tests shall be carried out to check for short circuits between conductors & between conductors and the outer sheath.
If each core cannot be identified, they will be phased to determine each core at both ends& will be suitably marked.
Upon completion of testing & termination check all cables are secured well on to the connections to avoid any data loss or system misbehavior.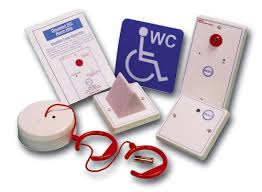 Commissioning Procedure for Disabled Toilet Alarm System
Ensure that all the precommissioning checks are carried out successfully.
Check the communication between the zone controller & the electronic module is healthy.
Check the power supply for the zone controller is sufficient.
Check & ensure that the software is of the latest version.
Check all lamps are working properly & functioning as per the sequence.
Check for proper functioning of pull cords, indicator lamps & buzzer.
ATTACHMENTS
Precommissioning check sheet for Disabled Toilet Alarm System
Commissioning check sheet for Disabled Toilet Alarm System
Risk Assesment