The purpose of generating this Method Statement is to define the procedure step by step to implement the correct practices for Installation of PVC conduits through the guidelines contained herein so as to ensure that the job execution complies with the requirements and serves the intended function to satisfactory level.
Material Handling
On receipt of the PVC conduits at site necessary precautions shall be taken for unloading, shifting & storage, as follows:
All PVC conduit and accessories delivered at site shall be carefully off-loaded by developing necessary / adequate manpower and equipment in such a manner that no damage shall be caused to conduits and accessories.
All conduits and accessories will be inspected, handled and stored properly upon receipt at site.
Conduit materials shall be stored in a place free of water and properly covered to avoid any damages due to weather affect.
Ensure that PVC conduits are not dropped onto hard surface and will not be dragged along the ground. To the maximum extent the loading and unloading of electrical conduits will be carried out manually by hand.
Any discrepancies, damage etc., found will be notified and reported for further action.
Material found not suitable for site use will be removed from site immediately.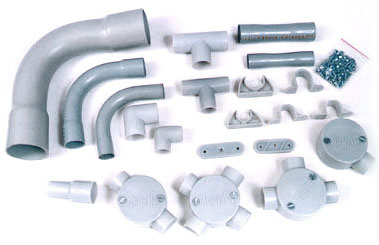 INSTALLATION PROCEDURE FOR PVC CONDUITS
Ensure that the work area is ready and safe to start the installation of electrical conduits
Prior to start the installation, refer the approved shop drawings related to the area of installation and ensure required material is available at site as per approved material submittals.
Mark the location of the back boxes or pull boxes & place thermo coal secured with masking tape on these locations.
Install the PVC conduits utilizing the steel reinforcements as supports by using necessary binding wires.
The concealed conduiting of slab or any other concrete structure should be securely fastened with binding wires to reinforcement rods or shuttering to withstand concrete & screed pour.

The jointing of PVC conduits

shall be done with suitable couplers and solvent cement. The PVC conduits shall be bonded tightly to the back boxes / pull boxes with suitable adapters.
The jointing process of PVC conduit will be followed as mentioned below :
(a) Both the joining ends of conduits will be cleaned from inside as well as from outside by using solvent cleaning fluid and wipe it with clean rag to make it dry.
(b) A thin layer of solvent cement is applied to the inner surface of the coupler.
(c) Push fit the conduit ends fully into the coupler by slight twisting action & remove the spilled or surplus solvent cement from around the joint. Make sure the conduit has entered fully into the box spouts and couplers except expansion couplers.
(d) Make sure that the joint is tight enough and entry of water into the conduit through joints is not possible.
(e) Approved connectors / adopters will be used for connections to back boxes / pull boxes.
(f) Expansion couplers of approved type shall be provided wherever the conduits passes through the expansion joints of the building.
All bends of PVC conduiting will be made by using correct size of bending spring. Ensure the radius of any conduit bend shall not be less than four times the outside diameter of the conduit to satisfy the easy cabling / wire pulling requirements.
To facilitate easy cabling / wiring sufficient pull box or junction boxes will be provided in all conduiting. At least one pull box shall be provided on every two 90 degree bends.
In longitudinal straight runs the pull boxes / junction boxes will be provided in every 30 meters.
Close bunch of PVC conduits in slab shall be avoided to maximum possible extent.
Sufficient gap shall be provided between conduits at cross-over locations.
Ensure all open end of the conduit are capped / plugged properly before concrete pouring. Also ensure caps are provided for unused knock out holes where blanks have been removed.
In vertical wall the conduits shall run vertically from the back boxes. Horizontal runs shall be avoided on walls.
Ensure the recessed position of outlet boxes is accurate to allow for surface finish thickness.
Conduits chased into wall should be recessed sufficiently to permit a minimum thickness of 15mm for plaster cover. For conduits run to be embedded in concrete a minimum 25mm cover will be provided.
After completion of conduiting installation for any portion, the area will be cleaned properly by removing all surplus material, construction debris or scrap material etc., to leave the are in clean and tidy condition prior to concrete pour.
After removal of concrete shuttering, all the conduits shall be checked for blockage (wherever possible), shall be cleaned & plugged/covered.