1. PURPOSE
The purpose of this Method Statement is to define the procedure step by step to implement the correct practices for Installation of Telephone System through the guide line contained herein so as to ensure that the job execution complies with the requirements and serves the intended function to satisfactory level.
2. SCOPE
This Method Statement refers to various work procedures contained within project control documents, which explains and covers the Installation of Telephone System.
3. RESPONSIBILITIES
Engineer In-charge (Electrical) / Site Engineer (Electrical)
4. TOOLS / EQUIPMENT
Micro test Scanner
Label Printer
Fiber Eye
Drill Machine
Fiber Tool Kit
Ladders
Wire Scope 155
S110 punch down tool
Power Meter
RJ45 termination tool
FOTEC OTDR
Crimping tool
Advantest
Cable Toners
FIS Tool Kit
General tool Box
FIS Fiber Tool Kit
Fire Extinguisher
Talk set
Omnis Scanner
Fujikawa
DTX Analyzer 1800
Blow Lamp
Cleaver
Krone Tool
Portable hand tools
Splice Machine
Spirit Level / Level Threads
OTDR
Digital multimeter
5. MATERIALS
Telephone System accessories shall be in line with the approved material submittal and approved drawings by local communication company as per applicable rules and standards.
6. HANDLING & STORAGE
On receipt of the Telephone System accessories at site, necessary precautions shall be taken for
unloading, shifting & storage, as follows:-
6.1. All Packages for the complete set of Telephone System, reaching to site shall be identified as per package list.
6.2. Where auxiliaries are shipped loose, these will be identified and checked against the dispatch documents. Any item found missing or damaged will be noted to the supplier immediately for
the replacement / repair.
6.3. Special attention shall be paid to the instruments and monitoring devices supplied loose.
6.4. All materials received at site shall be inspected and ensured that the materials are as per approved material submittal, shop drawing and single line diagram.
6.5. Any discrepancies, damage etc., found will be notified and reported for further action.
6.6. Site Engineer (Electrical) has to ensure that material used at site are of free from any damage or deformity of any kind of damage material sent be back to supplier.
6.7. All packages shall be stored under protected dust area.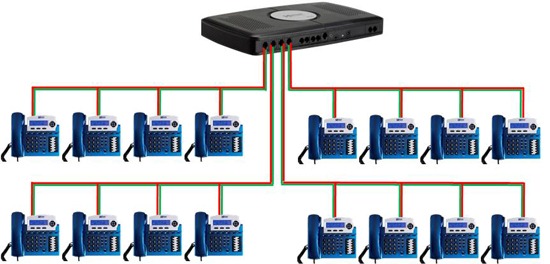 7. INSTALLATION PROCEDURE
Telephone System shall be installed & Tested by approved agency's representative.
7.01 Ensure all civil works are completed for the area including floor paint to carryout the installation, and clearance is obtained from respective authorities to proceed further.
7.02 Prior to start the installation, refer to the approved shop drawings related to the area of installation and ensure that required materials are available at site as per approved material submittals.
7.03 Ensure the materials are stored properly and there is no mark of damage or deformity of any kind before issuing the material from site store.
INSTALLATION OF TELEPHONE CABLE
7.04 Installation of Telephone cables shall be taken – up through the containment system for Telephone points to junction box.
7.05 Proper care shall be taken while laying the cable to maintain the required safe distances from electrical equipments and power sources to avoid the main source of interfaces.
7.06 Ensure the cabling is done in proper way with out any stress on the cable, while laying at the turning etc, by keeping enough slack and proper bending radius.
7.07 Ensure that enough slack is kept in the cable on both ends to allow the cable termination.
7.08 Telephone cable s shall be identified on both ends as per method shown in approved shop drawings and as per local communication company's requirements.
7.09 Continuity testing shall be carried out for each pair / loop of Telephone cable by using continuity test meter and result will be recorded for review and approval.
7.10 After completion of entire Telephone cabling and approval by consultant, cable termination shall be carried out in MDF and JB's by contractor and in outlet by local telecom company. The pair and locations feeding are identified in the Main Distribution Frame as per approved
shop drawing.
7.11 MDF and JB's will be identified with tags.
7.12 All work shall be carried out according to local communication company's requirements & as per their latest design guide for Telecom & Board band service requirements in new buildings.
INSTALLATION OF TELEPHONE SYSTEM EQUIPMENT
7.13 Main Distribution Frame will be installed in Telephone room as shown in detailed approved shop drawings.
7.14 Required rack ways shall be installed to interconnect back bone cable ducting to MDF and JB 's.
7.15 Installed MDF, JB's & containment shall be checked for the proper locations and approved by consultant's to proceed for the cabling works.
EARTHING OF TELEPHONE SYSTEM
7.16 An earth pit for clean earth will be provided out side main Telephone room.
7.17 Earth resistance of the earth pit will be measured and ensured that the value is with in permissible limit specified by local communication company.
7.18 Earth cable of size as mentioned in drawing & as required by local communication company will be laid from earth pit to Main Distribution Frame.
7.19 Proper termination shall be done at earth pit as well as MDF by using suitable terminal end connectors & as recommended by local communication company.
7.20 Metallic frame of MDF shall be earthed and other screens of cables shall also be bonded together and connected to earthing terminals.
7.21 Tightness of all connections and earthing continuity shall be checked.
8. INSPECTION
Inspection I : Installation of Telephone System
9. ATTACHMENTS
9.01 Risk Assessment
9.02 Inspection and test plan
9.03 Quality control prcedure
9.04 Check Sheets