Below tile installation method details construction procedure or Method Statement for floor tiles installation which can be used for any kind of ceramic tiling works.
Selected working area should be barricaded to avoid accidents & damages.
Obtain necessary clearances and approvals from consultant including MEP clearance.
Ensure that the surface receiving the floor tiles is thoroughly cleaned, smooth and it is free from any dirt/dust and loose lying debris.
Set out tiles layout, markings as per approved drawing with reference from grid line.
Mark out level on corners and walls surface at reasonable distance to serve as reference for tiles finish levels.
Ensure proper mixing of tile bedding material semi dry cement sand mortar.
Spread the bedding evenly as per required thickness with white cement grout on surface to receive each tile.
Ensure adequate level of surface is achieved for tile installation.
Spacer size should be as per approved mock-up / consultant selection.
Lay out tile work to minimize the use of pieces that are less than half of a tile and provide uniform joint widths unless otherwise indicated ( As per approved shop drawing ).
Provide smallest joint permitted for tile size and recommended by the manufacturer for  floor tiles.
Install Skirting with tile glue as per approved shop drawing/approved material.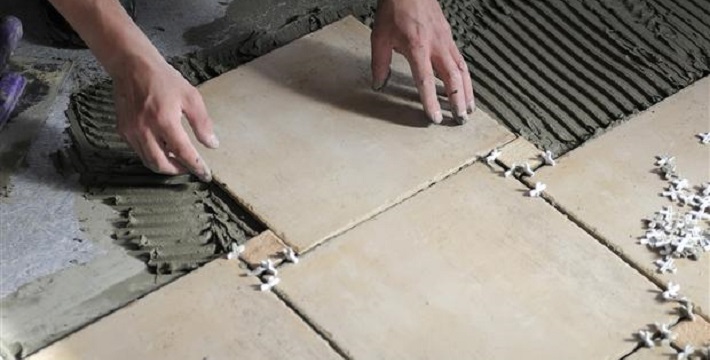 Clean the surface to remove stain of  sand mortar.
The gap between the tiles will be filled using approved grouting materials.
Grout shall be sanitized and match the tiles.
Grout shall not be applied until the bedding material
has hardened sufficiently.
The joints shall be minimum of 5mm deep and free from dust and
debris.
All joints shall be completely filled, tooled to an accepted profile and wiped down to leave
free from blemishes.
The grouting joint shall be nominal 2mm, at no point greater than 3mm or less than 1mm and deviations shall be non-cumulative.
The grout joints shall be 'washed' joints: meaning the grouting shall be washed out to the bottom line of the arris.
Polish the tile when job is complete with clean dry clot.
Inspection request to be raised after completion of tile installation work and ensure its approval.