Safe Work Method Statement for Anti Termite Treatment is given below in a short form that contains only the steps involved in the activity.
Ensure all clearances from the concerned Government Department obtained. Selected working area should be barricaded to avoid accidents & damages
Ensure suitable access / safe ramps provided for safety of all site personnel's proper safety PPE to be followed.
Place signage such as Keep Out, Soil Treatment is going on and Exclusion Zone & physical barrier to be erected around the excavation area where it is appropriate.
Ensure that the area to be treated is inspected / approved.
Ensure that the competency of specialized Subcontractor for Anti- Termite Treatment is approved prior to start application procedures.
Only authorized personnel from sub-contractor is allowed for the application of the anti termite control treatment.
The personnel who are applying the anti-termite treatment should wear full body protection gear.
All exposed body should be completely covered specially face.
One day notice should be given to employer prior to time of Soil Treatment application.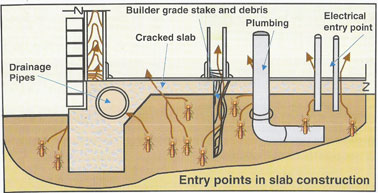 No application of Soil Treatment allowed to excessively wet soils or during inclement weather.
Comply with handling and application instructions of Soil Treatment manufacturer.
Employers representative shall be present at time of treatment and upon request shall be provided with samples of chemicals during application for independent testing verification of content.
Ensure that the area is leveled and compacted and clean from any deleterious materials & area for application is thoroughly dry.
Dilute 2.5 Liter of  Rotryn 50  in 100 liters  water as per manufacturers adequate procedures and recommendations.
Pressure pump and spray on the foundation bases, walls and sub slab area at a ratio of 5 liter per square meter.
Concrete shall be casted within two hours over the treated soil horizontal/vertical barrier and if cannot be poured within the limit of two hours, polythene sheeting should be placed over the treated soil for the period not exceeding 24 – 48 hours.
In case of delayed covering of polyethylene sheet to be done and for  more than 24 – 48 hours re-treatment is required.
Retreatment is required in case the pouring / casting of concrete slab delayed more than 24 – 48 hours.
Post signs and reflecting ribbons will be posted around the areas of application to warn workers that soil treatment has been applied and unauthorized not directly involved with the ongoing operation shall be prohibited to access to the site operations.