Description of the material
EpoCrete 100W is a two-component, water dispersible, non-toxic, clear, epoxy coating with excellent resistance to abrasion and moisture. EpoCrete 100W does not contain any volatile organic compounds and is a safer and more environmentally friendly alternative to conventional coatings such as solvent based epoxies, polyesters, and acrylics. EpoCrete 100W is highly abrasion resistant and will not support the growth of bacteria.
USES of the Material
EpoCrete 100W was formulated to provide a hygienic, easy-to-clean, and non-dusting protective coating to concrete surfaces on horizontal and vertical applications. EpoCrete 100W may be applied to damp surfaces where a dry substrate may be impossible to obtain. EpoCrete 100W has good resistance to chemicals, will not support bacterial growth, and will not taint food stuffs.
EpoCrete 100W is suitable as a protective coating in food processing plants, canning and bottling factories, laboratories, hospitals, clinics, power plants, refineries, and liquid containment areas. When diluted with water at 10% by volume, EpoCrete 100W may be used as a primer for water based coatings.
EpoCrete 100W complies with ASTM D 412 and BS 6920.
Advantages of EpoCrete
 Environmentally friendly – zero VOC.
 Easy to use and apply.
 Moisture tolerant.
 Available clear or in wide range of colors.
 Non-toxic.
 Provides a seamless coating.
 High bond strength to a variety of substrates.
 Resists positive and negative pressure.
 Excellent abrasion resistance.
 Long pot life up to one hour.
LIMITATIONS
Never apply to new concrete surfaces before they have been allowed to cure for a minimum of 28 days. EpoCrete 100W should not be used to fill cracks or holes in the surface. EpoCrete 100W must be applied at a minimum dry film thickness (DFT) of 80-100 microns. Do not apply if temperature drops below 10°C or exceeds 35°C.
PHYSICAL PROPERTIES ●
Mixed Density@ 25°C = 1.36 kg/m3
Solids Volume = 100%
Initial Recoat Time = 6-8 hrs @ 25°C
Max. Recoat Time = 48 hrs. @ 25°C
Full Chemical Cure = 7 days @ 25°C
Max. Service Temp. = 60°C
Pot Life = 60 min. @ 25°C
Dry Film Thickness = 80-100 microns
Application rate will vary according to surface conditions, application technique and job conditions. Coverage is approximately 5 m2/l; when diluted with potable water at 10% by volume for use as a primer, coverage will be approximately 8 m2/l.
SURFACE PREPARATION
All surfaces should be clean and free from dust, oil, and other contaminants. Concrete surfaces may be damp but not wet. Treat oil or grease contamination with degreaser followed by water or steam cleaning. The substrate must be fine textured since EpoCrete 100W is applied in small thicknesses.
Concrete: New concrete should be at least 28 days old. Excessive laitance should be removed by mechanical methods. Dust and other debris should be removed by vacuum cleaning. Any fine cracks or pin holes should be covered with MortCrete 3000 or other epoxy-based mortar. Concrete must be free of excessive laitance, curing compounds, grease, or oil. Damaged areas or surface irregularities should be repaired using MortCrete 3000 or other epoxy-based mortars. Ensure concrete surface is sound, cutting back where necessary and re-patching with MortCrete 3000.
Epoxy Screeds: high spots or trowel marks should be rubbed down. Remove dust and debris by vacuum cleaning.
MIXING
The entire contents of the hardener container should be poured into the base container, taking care to scrape the hardener container clean. The two materials must be mixed thoroughly for at least 3 minutes until a uniform color and consistency are obtained. Use a heavy duty slow speed power drill with an appropriate mixing blade. Care should be taken to scrape the sides and bottom of the container with the mixer. Do not add solvents or thinners at any time.
After mixing, EpoCrete 100W should be immediately applied to the surface ensuring a continuous coating of uniform thickness is obtained. A stiff nylon brush or short nap roller is recommended for such application. For faster rates of application use an airless spray.
Priming:
EpoCrete 100W must be applied at a minimum total dry film thickness (DFT) of 80-100 microns. For best results, EpoCrete 100W should be applied in a minimum of two coats. The second coat can be applied as soon as the first coat has dried (6-8 hours) depending on the ambient and surface temperature. If application of the second coat takes place more than 48 hours later at 25°C, the previous coat must be abraded to provide proper mechanical keying to the new coat. Higher temperatures require application of second coat within a shorter time frame. The second coat should be applied at right angles to the first coat. Allow 24 hours curing time before allowing light traffic. Full chemical cure is achieved after 7 days. Substrates that are highly porous should first be primed by diluting EpoCrete 100W with potable water at 10% by volume.
Slip Resistance
For an anti skid finish, broadcast A-Z Quartz or equivalent graded silica sand into wet base coat of EpoCrete 100W to saturation. Allow to dry over night then sweep of or vacuum excess aggregates then seal with the second coat of EpoCrete 100W. A primer coat is highly recommended when an anti slip finish is required on areas that will be exposed to moisture or chemical spillage.
SAFETY PRECAUTIONS
Non flammable material. The application of material should be under good ventilation. Avoid inhalation of the vapors. Use goggles and vinyl gloves. In case of contact with eyes, rinse immediately with plenty of clean water, do not use solvent and seek medical attention immediately.
The product complies with environmental and occupational health & safety standards ISO 14001 and OHSAS 18001.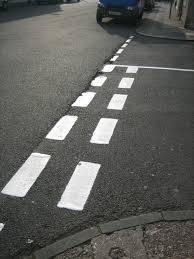 Application Procedure for Road Markings
Ensure all surfaces are clean, dry, and free from any dust, grease, oils and other contaminants.
Identify areas and road marking locations as per approved shop drawings.
Place masking tape accurately surrounding the road marking required section.
Ensure that edges of the tape that will be touching the paint are connected well to the application surface, so that the paint will not seep under the tape, which will result in ragged edges on lines
Apply2 coats of  approved material onto the prepared surface with a short nap roller or brush; the pressure on the roller will determine the resulting thickness
For highly porous substrate primer is required
For light reflection (if required) sprinkle the glass beads of 20 microns immediately on the wet surface
For highly porous substrate primer is required
Brush off the excess beads on the next day
Use manufacturer's recommended solvent to clean any mixing and application equipment after use
Ensure area is barricaded until road marking is dry
Inspection request to be submitted after completion of works and ensure its approval.