Below is a basic first aid procedure that describes first aid requirements for the workplace mainly on a construction project and offices.
Over all project head i.e. project manager or Project director is responsible for implementation of this standard procedure in coordination with first aider and project team.
First Aider and Approved Persons
First aider is a person who has been trained and holds a first aid qualification recognised by the local authorities.
Appointed person is a person who will take responsibility for the First Aid Box where there is no requirement for a First Aider. Training in basic First Aid should be considered for appointed persons.
Consideration should be given to the following when determining the numbers of first aiders for a project or establishment:
i. Distribution of employees within the project/establishment
ii. Nature of the work and the hazards.
iii. Size and location of the establishment/project.
iv. Whether there is a shift working.
v. Distance from outside medical services.
vi. Number of employees.
When calculating the First Aid Kit requirements the number and location of boxes should take account of:
i. Layout of the workplace
ii. Risks of injury in any given area
iii. Number of employees
iv. Accessibility
v. Classification of Injuries (Crush Type injuries etc.)
Standard First Aid Kit Requirements
a) Contents of the First Aid Kit based on number of employees are shown in below table.
b) Where persons are away from normal First Aid Facilities or there is a special risk of injury then additional First Aid Kits should be provided.
c) Large or widespread operations may require standard kits to be located at strategic points around the site or premises taking into account the degree of risk of injury and layout of the area.
Workplace Description
No. of Workers
No. of First aiders No

Emergency Response Team

Workplaces with low risk hazards (e.g. office)
Less than 20

21 –150 more than 150

One (1)

Two (2)

Two (2) for every 150 workers or part thereof

Workplaces with high-risk hazards (e.g. Chemical plant, shipyards, construction sites)
Less than 20

20 or more

One (1)

One (1) for every 20 workers or  part thereof

Workplaces with more than

400 workers

More than 400
One (1)   for every 50 workers

or part thereof  and in addition a state  registered  nurse or medical assistant   must be employed on site.
First Aid Boxes Requirements
a) Where mains tap water is not available for eye irrigation, sterile water or sterile normal saline (0.9%) in sealed disposable containers should be provided near the First Aid Box or particular hazard. At least 900 ml should be provided.
b) First Aid Boxes should be made of suitable damp and dust proof material and identified by the mandatory "First Aid" sign and direction arrows. Ideally they should be wall mounted or of a carrying case design.
c) First Aid Boxes should be kept to the required standard. Contents other than those on the schedule should not be permitted. No drugs of any kind should be kept in a First Aid Box.
d) All First Aid Kits will be the responsibility of an identified individual. When they have been appointed this will be a First Aider or, otherwise, an appointed person.
e) Consideration should be given to the provision of disposable gloves, and mouth-to-mouth resuscitators.
First Aid Rooms Requirements
a) Where an establishment presents a high risk from hazards a suitably equipped and staffed first aid room should be provided. High risk could be defined as a large construction site or where access to emergency facilities is difficult. A first aid room is to be provided where there are more than 150 employees.
b) The first aid room, its equipment and cleanliness should be the responsibility of an identified first aider/paramedic/nurse.
c) The room should be readily available to employees at all times, and not be used for any other purposes.
d) Effective ventilation, heating, lighting and arrangements for regular cleaning should be provided and the room clearly identified. Privacy must also be ensured.
e) The following facilities and equipment should be provided in a first aid room:
i. Sink with running hot cold water.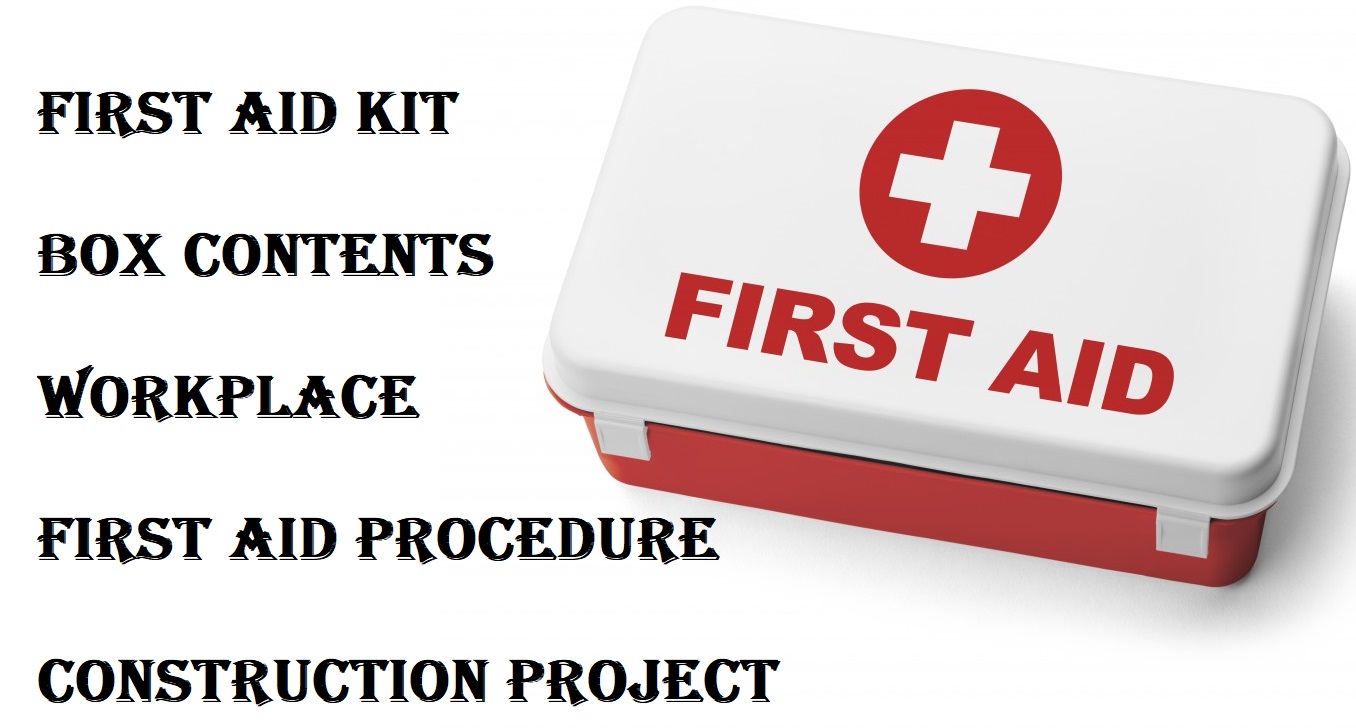 ii. Drinking water when not available on tap and disposable cups.
iii. Soap, nail brush and paper towels.
iv. Impervious smooth topped surfaces.
v. A suitable store for first aid material. (sterile dressings thermometer etc.)
vi. First aid equipment to at least one standard kit plus a stretcher and cervical collar.
vii. A bowl and suitable refuse containers lined with special disposable bag.
viii. Couch with waterproof surface and frequently cleaned pillow and blankets.
ix. Disposable plastic apron masks and gloves for use by first aiders.
x. A chair and appropriate record book.
xi. Large, blunt ended stainless steel scissors.
xii. Paper towels
Communication Requirements
a) All new or transferred employees should be informed of the location of first aid equipment and first aiders when they join the establishment. Information on Safety Notice Board must be updated.
b) All workplaces should display at least one mandatory notice (white cross on green background) in a conspicuous position and direction arrows stating:
i. Location of first aid kits
ii. Names and location of the first aiders or appointed persons.
iii. Location of any supplementary equipment facilities.
c) Where there is a first aid room, the names and contact arrangements for the first aiders should also be displayed on or near the door.
d) Where arrangements are made with a third party to supply first aid provisions this should be confirmed in writing.
First Aid Safety Checklist
a) Are adequate numbers of First Aid Boxes provided?
b) Are boxes suitable and contents correct?
c) Are they correctly sited relative to the hazards?
d) If lone workers require traveling First Aid Kits, have these been provided?
e) If a First Aid Room is required, is it correctly equipped?
f) Are all First Aid Certificates up-to-date?
g) Are First Aiders available in appropriate locations?
h) Are correct notices displayed and information up-to-date?
First Aid Kit Content Guidelines
It is important to check with the each country legislation to ensure these guidelines are sufficient and in compliance with local regulations.
S. No
Contents of  first-aid box or Cupboard

Box A

(for workplaces with up to 10 persons employed at a  time)

Box B

(for workplaces with up to 11-50 persons employed  at a  time)

Box C

(for workplaces with more  than 50 persons employed  at a  time)

1.

Small individual medicated or un- medicated sterilized   dressings, for fingers

6

12

24

2.

Medium-sized individual medicated or un-medicated sterilized dressings, for hands and feet.

3

6

12

3.

Large individual  medicated     or un-medicated sterilized dressings, for other injured parts.

3

6

12

4.

Assorted adhesive wound dressings Pressure bandages No. 15

5

10

15

5.

Triangular bandages

90 x 90  x 130 cm

5

10

15

6.

(i) Roller bandages, 1 inch

(ii) Roller bandages, 2 inch

6

6

9

9

12

12

7.

Adhesive plaster

—————A sufficient supply……………….

8.

Absorbent sterilized cotton wool, in ½ oz packets or Cotton-wool strip contained in cotton-wool dispenser

6

6

6

9.

Suitable splints and wool or other material for padding

—————A sufficient supply……………….

10.

Approved eye wash (eye ointment or eye drops)

—————A sufficient supply……………….

11.

Individual sterilized eye pads in separate sealed packets.

2

4

8

12.

Rubber or pressure bandages

1

1

1

13.

A two % alcoholic solution of iodine, or one % aqueous solution of gentian violet in a stoppered 2 oz bottle

1

1

1

14.

A bottle of smelling salt with the dose and mode of administration indicated on the label.

1

1

1

15.

Blunt nosed surgical scissors

1

1

1

16.

Safety pins

12

24

36

17.

Crepe bandages:

(i) 5cm

6

6

6

(ii) 7.5 cm

6

6

6

18.

Surgical tapes:

3M (Hypoallergenic)-5 cm

2

2

3

19.

Gloves – disposable free size

6

12

24

20.

CPR Mask

—————A sufficient supply……………….