Following tools shall be required for performing the installation of GI Conduits for electrical works.
Portable hand tools.
Portable Drilling Machine/ Grinding Machine
Spirit Level
Level Threads
G.I. Conduit bending and threading equipment
INSTALLATION PROCEDURE FOR INSTALLATION OF GI CONDUITS
Ensure that the work area is ready and safe to start the installation of G.I. Conduits.
Ensure the

installation of G.I. Conduits

are carried out in accordance with manufacturer's installation recommendations, requirement of applicable standards and in accordance with recognized industrial practices and specified in project specification to ensure that installation complies with requirements.
Prior to start the installation, refer to the approved shop drawings related to the area of installation and ensure that required materials are available at site as per approved material submittals.
Ensure the materials are stored properly and there is no mark of damage or deformity of any kind before issuing the material from site store. All materials and accessories should also be free of dust, scale, or oil.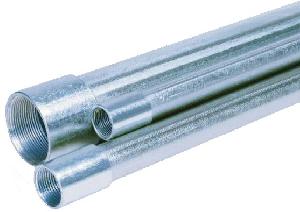 Ensure that the issued materials are of approved specifications / submittals and as per the the requirement of the area shop drawing's. (i.e. Make, size, Model / Type etc.,).
Site Engineer / Site supervisor has to ensure all civil works are completed for the area of installation and released / cleared by civil section to proceed on with GI conduit installations. Also the work area should be clean and safe to take up activities.
Mark and line out the route of GI conduit as per approved shop drawings with marking threads / marking powder.
Approved GI saddles shall be used at every 1200mm for fixing the GI conduit & 200 mm before pull box.
Ensure that junction boxes shall be used at every 10 mtr length of GI conduit and not more than 1 right angle bends allowed within this length.
Exposed threads of GI conduits shall be painted with zinc rich paint.
Sharp edges of GI conduit shall be filed to avoid damages to insulation of wires and painted with zinc rich paint.
GI conduits shall be connected with steel boxes, GI trunking, panel boards etc., using male brass bushes and serrated spring washers.
GI flexible conduits shall be used to take connections from un accessible location and end connections to motor terminal boxes. In damp areas like pump room and external areas, flexicon PVC covered GI flexible conduits shall be used.
All pull boxes, junction boxes fixed on the wall with screw in the route of GI conduit shall be provided with GI cover after pulling the wires.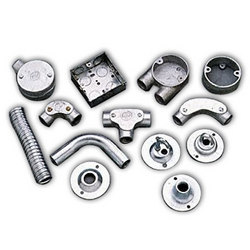 GI expansion couplers shall be used wherever GI conduit passes through building expansion joints
GI conduits shall be installed, concealed in building cladding or above suspended ceilings in finished areas and may be installed exposed only in unfinished areas.
Exposed GI conduits in unfinished areas shall be installed accurately in line and level.
Separate GI conduit shall be installed for each circuit and for each system of wiring.
Ensure that the Conduits are mechanically and electrically continuous.
Provide Earthing Terminals at each outlet box.
Ensure that the Conduits are cleaned and dry internally before the installation of wiring.
Ensure that the boxes and accessories in exposed or wet situation are made water tight.
Ensure that any damage to the finished is properly cleaned and painted
ATTACHMENTS
Risk Assessment
Inspection and test plan
Quality control procedure
Check sheets