1. PURPOSE :
The purpose of generating this Method Statement is to define the procedure step by step to implement the correct practices for Installation of Fire Alarm FA System through the guide line contained herein so as to ensure that the job execution complies with the requirements and serves the intended function to satisfactory level.
2. SCOPE
This Method Statement refers to various work procedures contained within project control documents, which explains and covers the Installation of Fire Alarm System.
3. RESPONSIBILITIES
Engineer In-charge (Electrical) / Site Engineer (Electrical).
4. TOOLS / EQUIPMENT
4.1. Fork Lift & necessary arrangement in line with the Manufacturer's, recommendations and as required at site for fire alarm panel .
4.2. Portable hand tools.
4.3. Spirit Level / Level Threads
4.4. Cable Stripper.
4.5. Digital multimeter
4.6. Screw Driver and connector.
4.7. Drilling Machine.
5. MATERIALS :
Fire Alarm System material shall be in line with the approved material submittal and approved drawings by authorities rules and standards.
6. HANDLING & STORAGE
On receipt of the Fire Alarm material & accessories at site, necessary precautions shall be taken for unloading, shifting & storage, as follows:-
6.1. All material for the fire alarm system, reaching to site shall be identified as per package list.
6.2. Electrical Engineer has to ensure that the issued material is of approved specification / submittal (I.e., make, size, model / type etc.,) and as per the requirement of area shop drawing. Any deviation if noticed, shall be notified and reported for further action.
6.4. Electrical Engineer has to ensure the Low Current Systems and accessories are stored properly and there is no mark of any damage or deformity of any kind before issuing the material form site stores.
6.5. Material shall be stored in a covered ventilated space at all the time .
6.6. All the Fire Alarm System Outstations, Modules & Control Panels etc. shall be stored in an air conditioned place.
6.7. Any discrepancies, damage etc., found will be notified and reported for further action.
6.8. Material found not suitable for site use will be removed from site immediately.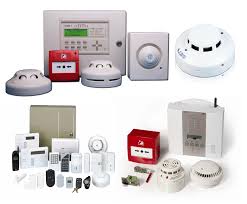 7. INSTALLATION PROCEDURE FOR FIRE ALARM SYSTEM
7.01 Prior to start the installation, refer the approved shop drawings and coordination drawing of latest revision related to the area of installation and ensure the required material is available at site as per approved material submittals.
7.02 All shop drawings, riser diagram must be approved by supplier for all installation methods and details.
7.03 Ensure that work area is ready and safe to start the installation of Fire Alarm systems.
7.04 All the related documents like latest approved shop drawings and schematic etc. should be available with installation team
7.05 Ensure the required termination materials that suits the cable used like lugs glands and ferrules and identifications.
7.06 Ensure the installation of Low Current Systems and accessories are carried out in accordance with manufacturers installation recommendations.
7.07 Ensure that requirements of applicable standards and in accordance with recognized industrial practices, and specified in project specification to ensure that installation complies.
7.08 25 mm PVC Conduiting for concealed installation. FP200 wires in concealed PVC conduits. FP200 wires in GI conduits, for all plant room,Roof etc wherever it is exposed to view.
7.09 FP200 with clips, For all surface installation.But above false ceiling where it is not directly exposed to view.
7.10 The containment system for Fire Alarm system is being used wherever required and also near the Fire Alarm control panels
7.11 Correct type of back boxes for all the outstations should be installed as per approved shop drawings / material submittals. The mounting heights for the Junction boxes should be verified with approved shop drawings
7.12 Containment System should be offered for consultant inspection prior to cabling works.
7.13 The required amount of cable should be transferred from Stores to Site access point by pick-up and to the particular floor with wheelbarrow as required to the work place.
7.14 The correct size and type of cable should be identified and cut to the required length.
7.15 Proper identifications to be provided for loop in / loop out of Fire Alarm cables.
7.16 The earth cables to all the outstations to be properly terminated with earth sleeve in the appropriate terminal in order to avoid any earth fault in the loop.
7.17 The junction boxes and back boxes to the outstations such as smoke detectors, manual call points and modules should be installed as per the approved shop drawings.
7.18 Installation of system outstation should be offered for QC Verification.
7.19 Adequate additional cable lengths to be provided during cabling for the detectors, which are coming in False ceiling.
7.20 All the cables to be terminated in the outstations with proper screw driver and as per the identifications provided in the cables. No joints are allowed in between two outstations
7.21 All the Fire Alarm control Panels such as Main Control Panels, Mimic Panels, Repeater Panels should be installed as per approved shop drawing.
7.22 All Smoke Detectors to have cover on it after installation and before handing over of the area, in order to avoid any physical damages / accumulation of dust within the Smoke Detectors.
7.23 All cables to be properly identified in Fire Alarm control panel before termination
7.24 Installation of sensors to be as per the approved drawings / Manufacturer's recommendations
7.25 Installation of Duct detectors to be as shown in the approved shop drawings.
8. INSPECTION
Inspection I : Installation of Fire Alarm System
9. ATTACHMENTS
9.01 Risk Assessment
9.02 Inspection and test plan.
9.03 Quality control procedure.
9.04 Check Sheet.