Below is the safe work method of statement for installation of Sign Boards that includes excavation as well..
Ensure all clearances from the concerned Government Department is obtained. Mark required area to be  excavated as per approved sign board locations.
Selected working area should be barricaded to avoid accidents & damages.
Mark required area for excavation check properly the area to be excavated might be any MEP services to be avoided prior to start excavation.
Ensure excavation procedure properly done /completed prior to start casting of blinding.
Reinforcement & shuttering to be fix as per the approved  drawing details.
Fix the anchor bolts  properly on its final location prior to casting of concrete.
Encase of existing MEP services provide protection with Plywood box around to avoid any damages prior to casting of concrete.
Submit IR for the excavation of Sign Board and ensure its approval prior to casting of concrete.
Safety precaution to be observe on the area where the crane to be place and barricading around the crane area to be provided while the crane is in motion Safety.
After completion of Pre-fabricated steel frames ensure alignment and fix properly on the anchor bolts  double check the level alignment while finalizing the tightness of knot in the base plate.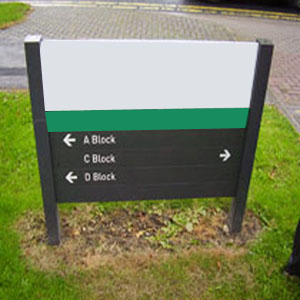 Signboard steel frame to be lifted by crane using belt type ensure proper procedures for lifting will be done by experience operators of cranes.
After complete fixation of steel frames for signboard double check the correct level /alignment prior to dismantling of crane belt.
After complete erection of signboard steel frames signboard cladding to be installed as per details in the approved Signboard drawings.
Inspection request to be submitted for the completion of signboard erection and ensure its approval from client.