Below is complete and simple to follow procedure for Safe Method Statement for Foundation Concreting Installation Works.
Ensure all clearances from the concerned Government department obtained.
Selected working area should be barricaded to avoid accidents & damages.
Ensure suitable access / safe ramps provided for safety of all site personnel's proper safety PPE to be followed.
Place signage such as Keep Out, Construction  is going on and Exclusion Zone & Physical Barrier to be erected around the construction  area where it is appropriate.
Ensure that  blinding area is inspected and approved.
Ensure water proofing is done in layer/sequence  and  approved  for each submittal.
Ensure that area to be poured is approved and  level / slope are clearly marked and marking should be visible prior to casting of concrete.
Foundation will be casted in sequence as per the approved construction joints locations and detailed in the drawing & construction joints to be hacked and treated with approved bonding  materials as per  specification requirements.
Ensure approved water stopper to be used @ required Construction  & Expansion Joints.
A.)  Permanent & Temporary Works /Shuttering
Temporary works will be shuttering around erected as per plumb, lines, level with reference points marked by surveyor & any box-out provided for MEP requirements will be part of temporary works
Safe working flat forms and access should be provided ( if required ) at the top of pouring level for working equipment's and labourers.
Ensure approved materials such as water stopper , etc. to be used in the expansion joints.
Items for permanent works such as rebars ,starter bars, embedded water bars, embedded blocks/spacers, conduits and any MEP sleeves as per MEP contractors requirements.
Ensure that all gaps in the formworks are closed to prevent the leakage of cement slurry during concrete placement.
B.)  Reinforcement
Reinforcement will be cut and bend in accordance with the latest revision approved bending schedule and be fixed in accordance with the relevant drawing.
Ensure that laps are fixed as per approved drawings specification requirements  and the tie wire used are trimmed and  properly fixed.
Site Engineers must ensure that correct  type, numbers, diameters and shape have been fixed and adequately tied into correct positions with the correct cover as specified.
Ensure inspection is raised after completion of steel reinforcement and approval to be obtained.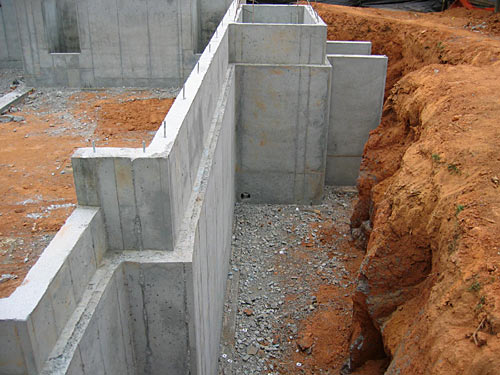 C.) Concrete Placing & Curing
Ensure that concrete pour is scheduled and correct design mix is well coordinated as per approved area to be poured.
Proper coordination with approved Ready Mix supplier to be coordinated for concrete pump locations & Technicians to be present during the pouring for cubes sample requirements.
Ensure that MEP requirements are coordinated and approved prior to start casting of concrete.
Ensure concrete vibrator, proper lighting and access are provided during casting of concrete.
Correct concrete procedure should be followed to avoid segregation /pump discharge hose to be in correct height / acceptable level  during actual discharging  of concrete.
Ensure that delivered concrete is the correct/ required design mix  and temperature, slump and sampling procedure is on the acceptable limits as per specification requirement.
Concrete vibrator to  be use continuously during casting / laying process  and ensure back  up concrete vibrator is available in case of breakdown.
Any Concrete deliveries found outside the specified work-ability range will be rejected and will be send back to supplier and delivery ticket will be endorsed, signed  with reason of rejection.
One set of cubes ( 6 Nos. + 2 spare ) shall be made for each grade  for ( every 50 cu.m ) of concrete poured on that day or as per required by Engineers & casted date ,should be reflected on the sample cubes taken & sample rate of sampling & testing shall be as per specified in the project specifications.
Concrete floor surface to be finished smoothly by power float any imperfections in the casted concrete should be repair using approved concrete repair materials.
Concrete curing  shall be shaded from the sun by means of wet hessian  after construction or for a duration accepted by the Engineer. Concrete curing to be done  as per specification requirements.