Below is the safe work method statement for the installation of tower crane foundation or tower crane base.
The installation will be as per the approved tower crane foundation drawings and details which is mostly different for different types of tower cranes, but procedural steps can be same as below for general understanding of the people who visit our site.
Ensure to obtain all the applicable clearances from the concerned government departments and authorities.
Selected working area should be barricaded to avoid accidents & damages.
Provide suitable access for the safety of all site personnel's contractors and visitors etc.
Every person on the site must wear the mandatory safety gear or personnel protective equipment i.e. PPE.
Place necessary signage such as Keep Out, Construction  is going on and Exclusion Zone etc.
Physical Barrier to be erected around the construction  area where it is appropriate.
Mark required area to be  excavated / location of Tower Crane Foundation & ensure approval from Consultants / Surveyor.
Excavation will be carried out as per recommendations of laboratory soil investigation reports( 3 Meters ).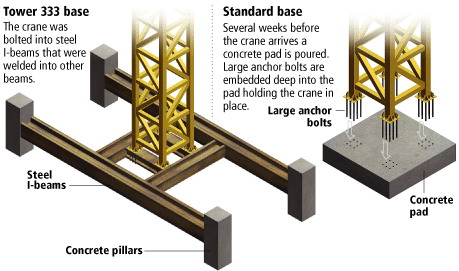 Before placing the tower crane foundation concrete, the base shall be compacted and backfilled.
Engineering Fill /Sub Base material as per soil test report should be used for backfilling.
Ensure that the area to be backfilled is clean from any debris wood or other unwanted materials.
Materials shall be placed in loose layers within the effective range of compaction with the maximum compacted layer thickness and shall be limited to 200 mm as per specified in the specifications.
After the compaction is done and approved, blinding / shuttering with proper supports shall be done and accepted by consultant.
Erection of base part of Tower Crane should be properly fixed by Sub-Contractor of Tower Crane.
Fixation of Reinforcement should be followed as per specifications & drawing details.
Ensure approval  from consultant prior to casting of concrete.
Clearances from MEP if required to be approved prior to casting of Concrete.
Concrete Casting should be done as per required in the specifications and design mix approval for Substructure requirements ( C 40 ).
Provide necessary curing arrangement as per the site situations and specification requirements.
After completing the desired days/time dismantling of shutter shall be done.
Backfilling of materials & compaction to be done in layers as per required in the specification.
Erection of Tower Crane Structure should be done by specialized Subcontractor only.