Tower Crane Erection Sequence
In the process of starting assembling lifting technician has to make sure that all lifting points are respected according to the manufacturer's guideline, assembly sequence is clearly communicated by the lifting engineer to his crew.
The site satisfies all requirements that are routed by the relevant safety standard and have passed examination of the relevant inspection organizations and obtain permission from them. Power supply ,lighting, hoisting device and other necessary tools are available at site before commencing the assembling.
Ensure the tower crane foundation for correctness and check the measurements as per specifications. Competent surveyor to carry out the correct coordinate and verticality before pouring concrete.
Assemble the base mast section. Climbing cage and other mast section. Assemble the Pivot Head assembly. Assemble the cabin mast. Assemble the Strut Tower assembly.
Assemble the counter jib and make tie bar connections and place the 1 no. counter weight. Assemble the front Boon and lift the boom with Mobile Crane and connect to the Tower and connect all tie bars. Load the remaining 3 nos.counter weights. Fix the complete Hoisting mechanism. Set the limit switch of rotation to ensure safe operation  of the jibs as per site requirement.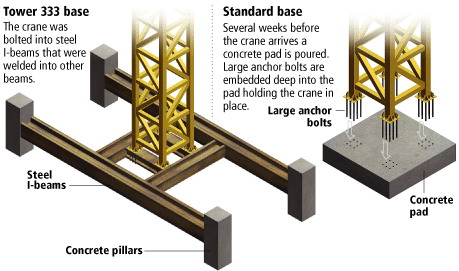 All lifting gears and accessories shall have valid approved third arty certificates. Anemometers shall be fixed at least one tower crane at site to monitor the wind speed .All lifting activities shall be ceased once wind reaches 12m/s. Third party competency inspection and certification shall be carried out before handing over to site for further utilization.
Tower Crane Dismantling Sequence
Hook block will be removed and hoist rope will be reeved back on Hoist Drum. Required mobile crane will be used to dismantling the rear counter weights from the tower crane. Except last one which will be dismantled after removing of front Jib.
Mobile crane will be used to dismantling the front Boom. Hoisting Mechanism shall be removed with the help of mobile crane after removing of last counter weight left. Counter Jib shall be removed by same mobile crane.
Mobile to dismantle the Tower Head and Cabin. Use the mobile crane to dismantle the pivot head. Mast sections will be removed one by one and then climbing cage . The foundation section to be cut by oxy acetylene gas.