Purpose of this safety method statement is to define the procedure for the installation of access scaffolding including scaffold tower. The scope of this method statement is for the installation of the scaffolding on to the external façade of the project only.
Following material and equipment is necessary for the work:
JCB
Bobcat
Telehandler
Hammer
Spanner
Base Plates
Ledgers
Standards
Toe Boards
Guard Rails
Planks
Roles and Responsibilities
Project Manager
Ensuring that the project works are carried out in accordance with Company policies and in accordance with the project requirements.
Full compliance of subcontractors with quality policies and with the requirements of the project quality plan.
To ensure that all the equipment required to execute the works according to the construction program are available, in good condition, and provide any additional equipment that might be required.
To co-ordinate with the Construction Manager, Project Engineer, Safety Engineer, Foreman and Surveyor for a safe and proper execution of the works.
To guide specific attention to all safety measures in co-ordination with the safety officer/engineer.
Construction Manager
Ensure area is ready and safe to start the works.
Set up required equipment and plant through discussion with the Project Manager and Project Engineer/Works Supervisor.
Allocation of required manpower through co-ordination with the Project Manager.
Provide the risk assessments for the works in hand.
Project Engineer
The engineer shall carry out his duties in a manner that shall be coordinated by the project manager on a daily basis, and shall ensure proper distribution of the workforce and equipment at required locations.
To co-ordinate with the Safety Officer to maintain safe working and proper housekeeping of the site. To comply with the safety measures and ensure that all Safety Officer Teams are aware of the same to prevent accident and loss.
To monitor and check all activities and ensure that works shall be carried out according to specifications, quality and approved drawings.
Scaffolding Supervisor
To arrange all the necessary materials and manpower required for scaffolding works.
Co-ordinate with the Project Engineer / Foreman and ensure the requirements of the scaffolding are understood.
Install, inspect, maintain and take down all scaffolding works on site.
Maintaining all required documentation for Scaffolding inspections and tagging.
HSE Engineer/Officer
To ensure implementation of all safety measures related to the nature of works being carried out, and in accordance with the Project Safety Plan.
Ensure that all the persons involved in the works are aware of their responsibilities, and that they have enough understanding of the safety procedures.
The safety officer in co-ordination with the Project Manager shall ensure that all the implemented safety measures are effective enough to maintain safe working on the site.
To maintain continuous inspections of the site activities, advise and train persons on a daily basis to prevent accidents and personnel injury.
Give special concern to housekeeping, and ensure that the site is maintained clean and tidy.
To ensure all the relevant safety sign boards for different works are in place.
Foremen/ Works Supervisor
Ensure the works are progressed in the sequence as agreed with the Project Manager.
Liaise with the Project / Construction Manager for the allocation of the work force, ensuring adequate manpower is available.
Also liaise with the site manager to ensure all the required plant / materials are available to construct the works.
Sequence of Work for Scaffolding Works
Post scaffolding safety guidelines in a conspicuous place and be sure that all persons who erect, dismantle or use scaffolding are aware of them.
Follow all Government codes and regulations pertaining to scaffolding.
Survey the job site. A survey shall be made of the job site for hazards, such as un-tamped earth fills, ditches, debris, high tension wires, unguarded openings, and other hazardous conditions created by other trades. These conditions should be avoided as noted in the following sections.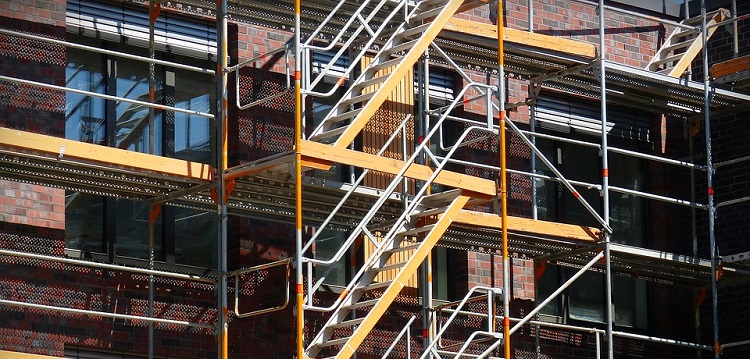 Inspect all equipment before using. Never use any equipment that is damaged or defective in any way. Remove it from the job site.
Scaffolds must be erected in accordance with design and/or manufacturer's recommendations.
A scaffold shall not be erected, dismantled or altered except under the supervision of a qualified person.
No abuse or misuse of scaffolding equipment shall be allowed.
Erected scaffolds shall be periodically inspected and continually be monitored by users to be sure that they are maintained in safe condition. Any unsafe condition shall be reported to the Sire Safety Officer.
All newly assembled scaffolds shall be inspected before use. The Scaffolding Supervisor will fix a "Green Scaff tag" if the assembly is approved. If not approved the tag will be a "Red Scaff tag".
The validity of the Scaff tag will be for one week, after which re-inspection will be carried out and recorded on the Scaff tag.
Erection and use of scaffolds
Scaffold base shall be set on an adequate sill or pad to prevent slipping or sinking and fixed thereto where required.
Any part of a building structure used to support the scaffold shall be capable of supporting the maximum intended load to be applied.
Use adjusting screws or other approved methods instead of blocking to adjust to uneven grade conditions.
Continuous (Running) Scaffolds shall be tied to the wall or structure at each end and at least every 9m of length when scaffold height exceeds the maximum allowable free standing dimension.
When free standing scaffold towers are four (4) times their minimum base dimension vertically, they must be restrained from tipping.
No scaffolds shall be erected near electrical power lines, unless proper precautions are taken.
A means of access to all platforms shall be provided.
No makeshift devices or ladders shall be fixed on top of scaffolds to increase the height.
Guardrails and mid-rails shall be provided at each working platform level where open sides or ends exist, toe boards are required by code.
Working platforms shall cover scaffold bearer as completely as possible. Only scaffold grade wood planking, check each plank prior to use to be sure plank is not warped, damaged, or otherwise unsafe.
Do not cantilever or extend putlogs/trusses as side brackets without thorough consideration for loads to be applied.
Putlogs/trusses should be extended at least 150mm beyond point of support.
Place recommended bracing between putlogs/trusses when the span of putlog/truss is more than 4m.
Do not attempt to move a rolling scaffold without sufficient help – watch out for holes in floor and overhead obstructions – stabilize against tipping.
No riding shall be allowed when moving the scaffolding
Check to assure scaffolding has not been structurally altered in a way which would make it unsafe and, if it has, reconstruct where necessary before commencing with dismantling procedures. This includes all scaffold ties.
Visually inspect plank prior to dismantling to be sure they are safe.
Consideration must be given as to the effect removal of a component will have on the rest of the scaffold prior to that component's removal.
Do not accumulate excess components or equipment on the level being dismantled.
Also do not remove ties until scaffold above has been removed (dismantled).
Lower dismantled components in an orderly manner. Do not throw off of scaffold.
Dismantled equipment should be stockpiled in an orderly manner.
Follow all safety rules as per project requirements and site conditions.