Safety committee plays an important role in implementation of an organization's or project's hse system.
Regular hse meeting is necessary to check the performance of a project or company.
Below is list of some important safety meeting agenda points that you can consider if planning your next meeting.
Normally the frequency of hse meeting is at least once in a month, additionally if any major incident occurs it should follow.
Following is list of safety meeting attendees for a construction project:
Project Director / Chairman
Project HSE Manager
Project Functional Managers/ Engineers / Subcontractors
Union Representative (where legally required)
Agenda of the project safety committee meeting
Review of all HSE incidents
Compliance with:
Project HSE Plan
Statutory Requirements
Work Method Statements
Risk Assessments
Job Safety HSE Analysis / HSE Verification Checklists
Housekeeping  and Site Tidiness
Maintenance of Safe Access and Egress
Review of Site HSE Violations
Other matters (including any of the following relevant to the Project):
HSE Audits/Inspections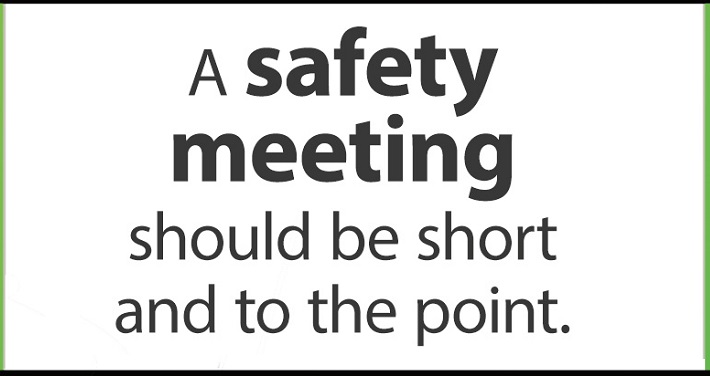 Accident Reporting and Statistical trends
Public HSE Issues
HSE Training and Promotion
Site Security Control
Plant and Equipment- certificate and performance
Environmental impact
Traffic Management
Working at Height
Fire Prevention and Protection
Personal Protective Equipment
Any Other Business
HSE Reporting Guidelines
Every project reports its Health, Safety and Environmental HSE performance against predetermined targets for the month by completing HSE Monthly Report and including these results in the Project Monthly Report.
Copy of hse monthly report shall be forwarded to the top management by the 5th day of the following month.
Every month the responsible person shall consolidate all project results using the same report format and forward a copy to the board of management by the 10th day of the following month.
Similarly HSE Quarterly Report are approved by the Project Director and submitted by the Project HSE Manager to the management by the 3rd day of the month following the end of the quarter.
These reports are consolidated and forwarded to the board of management by the 10th day of the month following the end of the quarter.