The purpose of this safework method statement is to define the rules and conditions designed to ensure that concrete and paving demolition work is planned so as to enable personnel to be aware of all the procedures and dangers involved and to decide on the safest method of work.
A detailed survey shall be conducted to ensure the identification of any structural problems and risks associated with flammable substances and hazardous substances to health. The survey shall take into account any adjoining properties likely to be affected by the demolition works.
Consideration shall be given to the location of premises containing sensitive equipment's, machineries, etc. so that restrictions shall be made for falling of materials, vibrations and dust protection during demolition. Similar considerations shall be made in relation of noise.
Vehicles and plants shall be effectively immobilized and gas and electricity supplies shall be isolated. Wherever necessary, surface protection shall be given to existing structures.
Tools & Equipment's
Below is list of necessary equipment and tools:
Air compressor
Electrical and pneumatic jack hammers
Electrical and pneumatic grinders
Scaffoldings with platforms
Hand Tools
Safety Measures
Temporary electrical services required for the demolition works shall be made in accordance with project HSE plan, rules and regulations.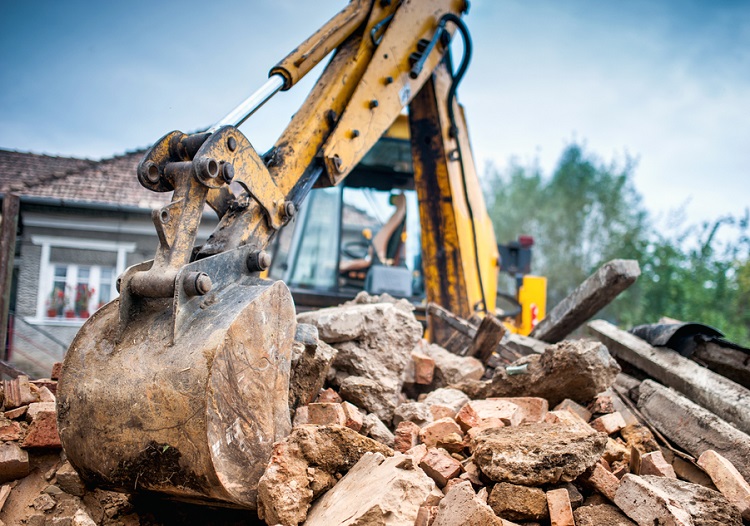 Demolition survey shall highlight the location of all known services on and adjacent to the site whether they are overhead or underground.
During demolition, a horizontal distance of 6 m radius shall be kept as a restricted area to allow the fall of debris.
Where work cannot be done safely from the ground level, adequate scaffolding shall be erected and shall be maintained in safe condition.
Outside the working hours, ladders providing access from ground to first landing shall be removed and stored in a secured area.
Ensure that all debris shall be cleaned out on sequential basis.
Sequence of Work for Demolition
Prior to starting work, necessary approvals shall be made from the client/consultant.
Existing services, pipelines and fittings still in the area shall be protected in proper way to prevent any damage or clogging during demolition.
In case of demolition of existing building, adequate information shall be given well in advance to allow and plan any shutdown is necessary during changeover.
Adequate protection and preservations shall be given to existing trees, hedges, shrubs, lawns, pathways and roads.
In case of any obstructions or fall of debris on roads, the area shall be cleaned on immediate basis.
During demolition of concrete structures, suitable temporary supports shall be made to existing structure. All the demolished materials shall be separately stored and disposed off at the approved dumping location.
Necessary excavations with proper shoring shall be made in case of any demolition to be done under the grade level.
Adequate precautions shall be made to prevent fire or explosions caused by gas, vapor, etc.
Periodically, water shall be sprayed to avoid dust during demolition.
In case of observations of any unidentified services or cables during the process, it shall be informed immediately to the client and work shall proceed further only after getting proper approval.
A sequence of operations shall be established which allows the clearance of debris on regular basis such that unnecessary overloads to the existing structures shall be avoided and to maintain a good housekeeping.
Upon completion of demolition work, the site shall be kept tidy and the surrounding area shall be cleaned to avoid the accumulation of any dust and debris.