Following tools shall be required for installation of central battery emergency lighting system and CBS Panels.
Fork Lift
Hydraulic Pallet Mover
Portable hand tools.
Spirit Level / Level Threads
Digital multi meter
Megger
Handling & Storage Of Received Material 
On receipt of the Central Battery System and accessories at site, necessary precautions shall be taken for unloading, shifting & storage, as follows:-
Central Battery System & accessories received at site shall be inspected and ensured that the materials are as per approved material submittal, shop drawing.
After inspection, the central battery Cabinets shall be repacked.
Any discrepancies, damage etc., found will be notified and reported for further action.
Site Engineer (Electrical) has to ensure that all Cabinet used at site are free from any damage or deformity of any kind. Any minor damages observed shall be repaired suitably and in case if the repairs could not be done properly, the cabinet are to be sent to assembler for rectification, after all formalities carried on.
All packages shall be stored under protected dust area, till the Cabinet & accessories are shifted for installation.
Central Battery are stored in with packing as per manufacturer's recommendations. Packing shall be removed only prior to installation.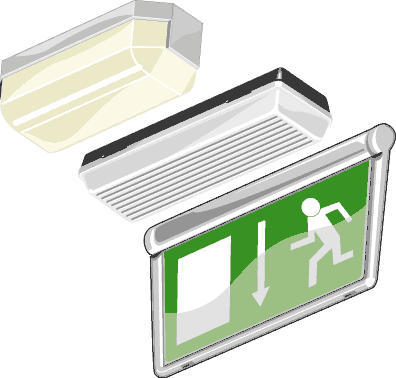 Installation Method For Central Battery System
Ensure all civil works are completed for the area including floor paint to carryout the installation, and clearance is obtained from respective authorities to proceed further.
Prior to start the installation, refer to the approved shop drawings related to the area of installation and ensure that required materials are available at site as per approved material submittals.
Ensure the materials are stored properly and there is no mark of damage or deformity of any kind before issuing the material from site store.
Prior to installation, the foundation will be checked for cleanliness, level and base frame surface.
The unit will be inspected prior to shifting to site for any mechanical and structural damage during transportation.
The name plate will be checked against equipment data sheet to confirm conformity with the approval.
Mark the fixing position of the Central Battery System as per shop drawing, coordinate with other equipment and services.
Shift the particular central battery system cabinet to the work place with fork lift or hydraulic pallet mover. Packing will be removed at the position of installation.
Check the label / marking to ensure the right system before installation.
Fix the Central Battery system with proper metal plugs and bolts. Ensure the installation is straight and leveled.
Suitable knock-out at the top and bottom (if applicable) of the Central Battery System shall be used for Incoming and Outgoing cable entry.
File the knock-out to suit the cable glands and lugs for rigid terminations.
Suitable equipotential bonding/earthing will be provided in accordance with regulatory requirement.
Ensure the incoming terminals and interconnecting terminals are free from dust and damage.
Check the breaker as per approved schematic diagram.
Megger the cables before termination.
Terminate all the circuits to its respective breakers with proper ferrule identification.
Double check the connections by tightening the terminations.
Clean the Central Battery cabinets after dressing, with blower to blow out all the small particles and dust after the termination works.
Provide identification labels as per specification / approved submittals.
Place the approved schematic diagram copy inside the Central Battery Cabinet door.
Attachments:
Inspection and test plan
Quality Control procedure
Check Sheets
Risk Assessment