What is wild air in HVAC?
Wild air is the supply of air to a building which is being constructed or renovated and having central air conditioning system.
In order to fulfill the temporary cooling and ventilation requirements for a building its air handling units are put in operation to feed the air which is not controlled via dampers and other air balancing techniques.
Wild air meaning is to supply air with full force to cool a building and even under construction project.
How to Turn On the Wild Air Conditioning?
Upon availability of power to the building, the following activities shall be carried out sequentially for wild air cooling.
Before starting the air handling equipment's, the LV panels shall be pre-commissioned & commissioned in line with the approved procedure. Similarly the switchgear panels feeding the chillers shall also be pre-commissioned & commissioned in line with the approved electrical testing and commissioning procedure.
The MCC feeding the chilled water pumps shall be pre-commissioned & commissioned in line with the approved procedure. All starter panels/VFDs for pumps & AHUs shall be pre-commissioned & commissioned in line with the approved procedure.
Wild Air Procedure
All the VFDs shall be by-passed during the start up of the pumps & AHUs and run in star/delta starter mode.
The Chilled Water pumps shall be pre-commissioned & temporarily started in line with the approved procedure.
Air handling units AHUs at the respective floors shall be pre-commissioned & temporarily started in line with the approved T&C procedure.
Upon start up of AHUs, the chillers shall be pre-commissioned & temporarily started in line with the approved commissioning procedure.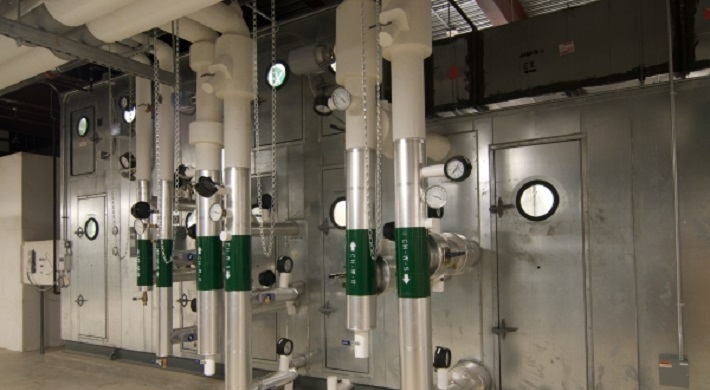 The AHUs for the remaining floors shall be started after starting of the chillers.
Chiller plant manager, logic controls, VFDs & BMS will be by-passed during wild air.
Air Balancing & water balancing shall be carried out later & shall not constitute as part of wild air cooling.
Control valves will be isolated & the chilled water flow shall be adjusted through the by pass.
Temporary filters shall be used in the AHUs during wild air.
Plant rooms & office areas shall be kept clean and all doors to rooms and shafts shall be installed.
All remaining works of chilled water system (piping & insulation) shall be completed prior to wild air.
Condensate drain pipes horizontal & vertical in conditioned & unconditioned areas shall be fully insulated.
Start up of equipment & system is temporary only to improve the working condition of the contractor in office floors. Full commissioning shall be done at a later stage when all systems are fully completed & ready for commissioning.
Contractor shall be responsible to protect & maintain all equipment, systems, networks, accessories, etc., at no extra time or cost impact to client by using trained personnel continuously until full commissioning has been successfully carried out & officially handed over to client / end user.
All guarantees & warranties will only start from the date of official handing over.
Alternate Wild Air Starting Procedure
Before installation and start of wild air equipment's do the following inspections and check provisions:
Calculate the total plot area available for air conditioning system.
Check the condition of plot area (Availability of leveled platform).
Provision to isolate Noise, vibration, dust and odors.
Vehicle/plant emissions.
Off-site traffic congestion.
Restrictions on pedestrian access-walkways, footpaths and roads.
Exposure of the workforce and others to deleterious/hazardous materials, including asbestos.
Contamination of water sources.
The distance between the Equipment yard to Area to be Cooled
Estimate the wild air requirements based upon the below factors:
Area SqM. of each zone.
Height of each zone.
U-value for all the wall, windows & roofs.
Expected RH external.
Internal RH required.
Ambient Temperatures.
Required internal Temperatures.
Expected People working & heat loads remitted by machines & Lights etc.
Opening /Air Penetrations.
Required internal Air Movement for a typical uncontrolled chilling environment.
Method statement for Wild Air Installation
Anti vibration pads of suitable thickness will be used to place chiller to absorb any vibration from the units.
Required size flexible pipe connections from each chiller inlet and outlet are carried out onto the Chilled Water Header pipeline.
The pipeline from the Header line to the chiller includes an isolation valve, flow switch, thermometer, pressure gauge and flexible connector.
All connections / fittings to be as per approved shop drawings for wild air delivery.
Pressure testing of the pipeline is carried out by maintaining the 10 bar pressure.
The static flushing is carried out using the fresh water in the system for about 30 minutes which would remove any light surface rust, mill scale and small debris such as cement splashes.
Dynamic flushing is initiated by filling the system with water after the static flushing. This will continue until the drain water is visually clear.
Chemical cleaning is initiated by filling the system with fresh water and introducing the treatment chemicals.
240 mm x 1 Core electrical cables are run from panel to the Chillers, Pumps & AHUs using cable trays.
Electrical cable terminations are carried out on the chiller.
A test run of the Chillers are carried out mean time work pressure can be measured and noted.
Once the test run is successfully carried out, the chillers are allowed for long running and the water in and out temperatures are recorded.