1. PURPOSE
The purpose of generating this Method Statement is to define the procedure step by step to implement the correct practices for GI Cladding of Ductwork & Pipework through the guide line herein so as to ensure that the job execution complies with the requirements and serves the intended function to satisfactory level.
2. SCOPE
This Method Statement refers to various work procedures contained within project control documents, which explains and covers the Cladding of Ductwork & Piping work.
3. RESPONSIBILITIES
Engineer In-charge (HVAC/ Plumbing) / Site Engineer (HVAC/ Plumbing).
4. TOOLS / EQUIPMENT
4.1. Portable hand tools.
4.2. Portable Drilling Machine/ Grinding Machine & Angle Cutter.
4.3. Rivet Gun
4.4. Step Ladder
4.5. Scaffolding with platform.
4.6. Adjustable spanner.
5. MATERIALS
Aluminum Sheet and accessories shall be in line with the approved material submittal.
6. HANDLING & STORAGE
6.01 On receipt of the material at sits, shall be off-loaded carefully at site using necessary manpower and required equipment to ensure that no damage is caused to the materials, necessary precautions shall be taken for unloading, shifting & storage.
6.02 All material packages reaching to site shall be identified as per package list.
6.03 Aluminum Sheets will be checked to ensure that it complies with the approved material submittals in terms of make, thickness etc.
6.04 Any discrepancies, damage etc., found will be notified and reported for further action.
6.05 Site Engineer ( HVAC/ Plumbing ) has to ensure that the material used at site are of free from any damage or deformity of any kind. Material found not suitable for site use will be removed immediately from site and the same will be replaced by correct material.
6.06 All packages shall be stored under protected dust area.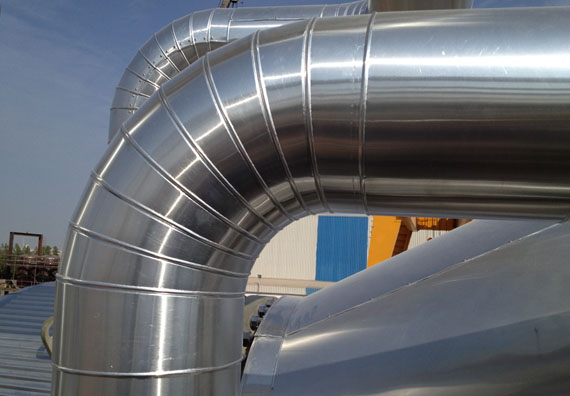 7. INSTALLATION PROCEDURE CLADDING OF DUCTWORK & PIPEWORK
7.01 All external ceiling voids and plant room, duct & water piping shall be cladded as per approved drawings and submittals.
7.02 Aluminum sheets of approved type, quantity and thickness are cut as required and rolled in the rolling machine to give rectangular / cylindrical profile and to form the longitudinal and circumferential groove.
7.03 Slip the rolled aluminum profile on to the insulated duct / pipe. Care shall be taken to ensure no damage to insulation.
7.04 Match the longitudinal grooves of the rolled profile and join by Aluminum pop rivets / stainless steel screws as applicable.
7.05 The screw / rivets sizes shall be optimum, so that they do not pierce the insulation
7.06 Fix the successive cladding and match the rectangular / circumferential groove of previous cladding and fix screws / rivets.
7.07 All longitudinal and circumferential joints are properly sealed by sealant.
7.08 All valves, strainer NRV, flexible joints, pumps etc. are laded by de-mountable boxes to allow maintenance access.
7.09 Care shall be taken to ensure, the cladding surface is free from damages, scratches, dirt etc.
7.10 Cladding shall be firmly fixed on the duct / pipe.
8. INSPECTION
Installation of Cladding Works ( Pipes & Ducts )
9. ATTACHMENTS
9.01 Risk Assessment
9.02 Inspection and test plan.
9.03 Quality control procedure
9.04 Check Sheets