Below is given the method statement or procedure for the safe work of block works.
Ensure all Clearances and approval from the concerned are obtained. Selected working area should be barricaded to avoid accidents & damages. Verify all requirements as per required in the specifications ( water proofing ,dowels ,etc.) especially rough ins of all required pipes for its final locations
Temporary Formwork and Shores to be provided as needed to support reinforced Masonry elements during construction. Prior to installation of damp proofing  ( walls & partitions ) ensure all areas are clean and should be level without protruding parts.
Before work begins ensure that dimensional setting ,levels alignment of all openings are properly check, coordinated with MEP  and be responsible for the true and proper setting out of work as per indicated in the Design Drawing and reference Grid lines. First layer will be solid
For an accurate set out work provide uniform spacing of bond patterns and joint widths particularly in the opening and ensure plumb shall be check on always especially on jambs, header of walls etc.
Maintain a clear gap at head of each wall or partition as specified for head restraints to accommodate slab deflection.
Use full-size units without cutting if possible. If cutting is required to provide a continuous pattern or to fit adjoining construction, cut units with motor-driven saws; provide clean, sharp, unshipped edges. Allow units to dry before laying unless wetting of units is specified. Install cut units with cut surfaces and, where possible, cut edges concealed.
Damaged materials shall not be used, and leave openings for equipment to be installed before completing masonry. After installing equipment, complete masonry to match the construction immediately adjacent to opening.
Mixing plant, tools and banker boards shall be kept clean at all times and accurate volume / mixes proportions shall be followed, Ingredients shall be mixed thoroughly to a consistency suitable for the work and free from lumps. Mortars containing air-entraining admixtures shall be mixed by machine, but not over mixed. Ratio shall be 1:3 (1 part cement & 3 parts of sand )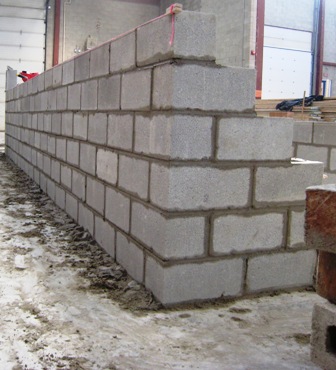 Lay hollow CMU with face shells fully bedded in mortar with head joints depth to bed joints, with webs fully bedded in mortar in all courses of piers, columns & pilasters.
Lay hollow CMU webs fully bedded in mortar in grouted masonry, including starting course on footings ,entire units including areas under cells, fully bedded in mortar at starting course on footing where cells are no grouted.
Lay solid masonry units with completely filled bed and head joints, butter joints with sufficient mortar and to put in place, Cut joints flush for masonry walls to receive plaster or other direct-applied finishes unless otherwise indicated. For glazed masonry units, use a non-metallic jointer 19mm or more in width.
Install entire length of longitudinal side rods in mortar with a minimum cover of 16mm on Exterior side of walls, 13mm elsewhere. Lap reinforcement a minimum of 150mm.
Provide continuity at wall intersections by using prefabricated T-shaped units, at corners by using prefabricated L-shaped units.
Cut and bend reinforcing units as directed by manufacturer for continuity at corners, returns, offsets and ensure all galvanized metal  accessories to be use/fix as required, door and window openings to be done according to approved drawings.
Anchor masonry to structural steel and concrete where masonry abuts or faces structural steel or concrete. Provide an open space not less than 25mm wide between masonry and structural steel or concrete unless otherwise indicated. Keep open space free of mortar and other rigid materials.
Install control and expansion joint materials in unit masonry as masonry progresses. Do not
allow materials to span control and expansion joints without provision to allow for in-plane wall or partition movement.
Control joints in concrete masonry – Fit bond-breaker strips into hollow contour in ends of CMUs on one side of control joint. Fill resultant core with grout and rake out joints in exposed faces for application of sealant.
Provide horizontal, pressure-relieving joints by either leaving an air space or inserting a compressible filler of width required for installing sealant and backer rod.
After mortar is thoroughly set and cured, clean exposed masonry as follows. Remove large mortar particles by hand with wooden paddles and non-metallic scrape hoes.
Dispose of clean masonry waste, including excess or soil-contaminated sand, waste mortar, and broken masonry units.
Unless otherwise indicated, excess masonry materials are Contractor's property. At completion of unit masonry work, remove from Site and dispose in the approved designated disposal area.
All walls shall be properly cured  as per specs.
Inspection request to be raised, inspected & approved by concerned persons.