This procedure describes the process of piling 24 inch and install sheet pile on the work project.
Barge master shall be responsible to position the crane barge on piling area.
Supervisor is responsible to install pile and sheet pile from beginning to finish.
Surveyor is responsible to set up survey tools and determine the points of pile.
Assistance surveyor is responsible for marking area as reference for piling and pile position.
Following materials and equipment shall be arranged:
Pile
Sheet pile
Crane
Drop hammer / hydraulic hammer
Vibrator hammer
Total Station
Water pass (Manual leveling)
Welding machine
Cutting tools
Measurement tools
Standard Safety Equipment (gloves, goggles, safety helmet, etc.)
Preparation for Work
Review drawing plan by company;
Piling lay out plan.
Cut off pile elevation
Setting out axis, elevation, preference and bench mark.
Preparing of labor to work; piling crew, supervisor, safety officer, etc.
Check the preparedness working tools; Total station, hammer, crane, pile, sheet pile, etc.
Make temporary access for piling area.
Piling Work for 24 inch Pile
a. Survey team determine location of piles appropriate to drawing.
b. Put the piles at piling position points which have been determined of survey team.
c. Using a Total Station for check piling position from two directions mutually perpendicular to ensure no deviations and piling has perpendicular at a supposed.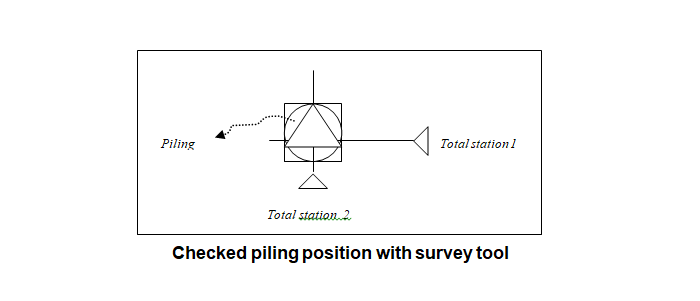 d. Piling can be started, put drop hammer / hydraulic hammer above the piling and monitor immediately with both Total Station to the position of piles fixed perpendicularly during piling process.
e. Stop piling if pile has arrived at a depth of planned or arrive at the layer of soil / hard rock.
Installation Sheet pile
a. Installation of guide beam to set out the position of the sheet pile wall.
b. Install sheet pile, the crane lifts up the first sheet pile and drives it into the ground, leaving about 2 meter length of the sheet pile above the ground level.
c. Install the second sheet pile into the ground and the second sheet pile interlocks with the first sheet pile.
d. Process b and c repeats till the installation of sheet piles is completed within the length of the guide beam.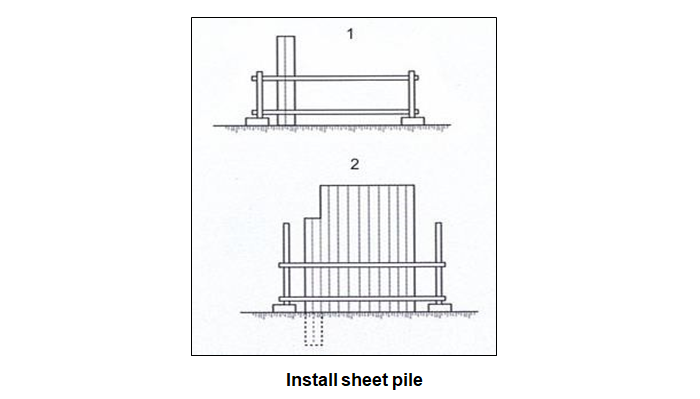 Safety Requirements
Contractors have legal obligations to ensure the safety and health of their workers at work.
This procedure  to describe installation sheet piles and piling. Nevertheless. contractors should conduct risk assessment on the work processes.
Implement a safe system of work that best suits the working environment, the equipment used, the processes to be carried out and the personnel involved.
Supervision should also be exercised to ensure safe implementation of the system of work.