The purpose of this procedure is to define the step by step method to implement the correct practices for the precommissioning & commissioning of submain Distribution Boards SMDB's through the guidelines contained herein so as to ensure that the job execution complies with the project requirements and serves the intended function to satisfactory level.
Required Tools for SMDB Testing
Portable Hand tools
Step Ladder
Insulation resistance tester
Multimeter
Precommissioning Procedure for Sub main Distribution Board SMDB's
Ensure that the Sub main Distribution Board installation is complete and all mechanical & electrical comments on installation are completed & approved. Ensure that no damage has occurred between mechanical completion & precommissioning.
Check for the location of installation is free of any water or construction debris.
Repair / replace damaged components, if any.
Ensure that the SMDB are properly tagged & identified location wise and service wise as specified.
Ensure that the wiring termination to the Sub main Distribution Board are complete, tight & secure.
Ensure that the outgoing cables from the SMDB are terminated in the respective Distribution Boards / equipment.
Ensure that the earthing of the SMDB has been completed.
Ensure the availability of power supply to the Submain Distribution Board.
Ensure that the cables to the SMDB are properly tagged & identified.
Ensure that the rating of the breakers (MCCBs) are as per approved shop drawings & schedules.
Ensure the metering connections are proper & the meters are in healthy condition.
Check manually all the breakers in the SMDB.
Check the termination of the cables to the bus bars are tightened properly.
Ensure that all manufacturer's instructions are carried out as stated in test procedures of SMDBs.
Insulation Resistance Test For SMDB
Isolate all incoming & outgoing cables.
Apply a voltage of 500 volts DC between phase 'R' to Earth for 1 minute with phase Y,B & N shorted & earthed & record the values.
Repeat the test for other phases as well.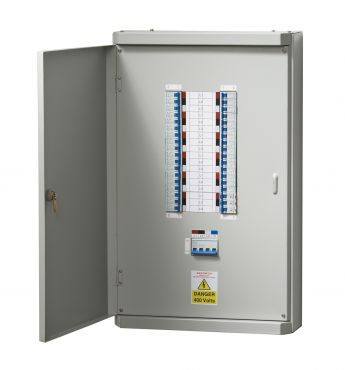 Commissioning Procedure for Sub main Distribution Board SMDB
Ensure that all the precommissioning checks are carried out successfully.
The incoming supply of the Submain Distribution Board shall be energized & the supply shall be measured for current & voltage.
The outgoing feeders shall be energized one by one & the supply shall be measured for current & voltage.
Check the metering functions for proper operation & correct readings.
Check the earth leakage trip setting.
Check the circuit breakers on/off function.
Attachments
Precommissioning check sheet for SMDB
Commissioning check sheet for SMDB
Risk Assessment
Manufacturer's instructions