The purpose of this procedure is to define the step by step method to implement the correct practices for the precommissioning, testing & commissioning of Lightning Protection System through the guidelines contained herein so as to ensure that the job execution complies with the project requirements and serves the intended function to satisfactory level.
Required Tools & Instruments:
Portable Hand tools
Step Ladder
Multimeter
Earth Megger
Lightning protection System Description
The lightning protection system consist (i) copper tape mesh in the roof, (ii) copper down conductors along the periphery of the buildings & running down along the building façade & getting connected into the dedicated earth pits for each run. All equipment in the roof, curtain walls & mullions are earthed in this system.
Pre Commissioning Procedure for Lightning Protection System
Ensure that the Lightning protection System installation is complete and mechanical completion is approved & all comments on the installation inspections are incorporated.
Ensure that all lightning protection system materials are installed in accordance with the equipment manufacturer's written instructions and BS 6651.
Ensure that no damage has occurred between mechanical completion & pre-commissioning.
Replace damaged copper tapes before starting the testing.
Ensure the installation is in line with the approved shop drawings & manufacturer's recommendations & BS 6651
Ensure the termination of the copper tapes on the joining clamps is tight & secure.
Check for proper bonding of copper tape with the equipment in the roof, curtain walls & mullions.
Check the complete run of the copper tape in the roof is properly supported.
Check the joints between any ferrous, steel or aluminium structures or equipment casings and the copper lightning protection system are via suitable bimetallic connectors.
Check the joints in conductors are kept to a minimum & are both electrically and mechanically sound and constructed so as to prevent the ingress of moisture.
Ensure that the joints are made using approved clamps.
Check that all metal services such as gas and water mains, electric and telephone cable armour/sheaths etc are bonded to the lightning conductor system with 25mm x 3mm flexible tinned copper strip from their point of entry to the structure. The bonding shall be to the nearest down conductor made by a test clamp.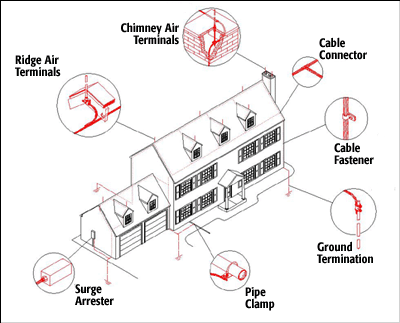 Commissioning Procedure for Lightning Protection System
Ensure that all the pre-commissioning checks are carried out successfully.
Check the continuity of each run of down conductors to the earth pits.
Check the earth resistance values at the earth pits individually & ensure that the value is less that 5 ohms.
If the resistance is more than 5 ohms take appropriate corrective measures to bring the value within acceptable limit of 5 ohm.
Check the resistance-to-ground test of lightning protection system and record the results.
Where resistance is greater than 5 ohms, chemically treat soil to reduce resistance to 5 ohms or less, then retest to demonstrate compliance.
Attachments:
Pre Commissioning of Lightning Protection System
Commissioning of Lightning Protection System
Pre Commissioning & Commissioning plan for Electrical System
Risk Assesment