Table of Contents
1.0 Purpose
2.0 Scope
3.0 References
4.0 Definitions and Abbreviations
5.0 Responsibilities
6.0 Procedure
6.1 Notice of Meeting
6.2 Agenda and Attendance
6.3 Confirmation of Previous Minutes
6.4 Matters Arising (include Safety, Health and Environmental Audit Findings)
6.5 Safety Representative Reports
6.6 Incident – Accident Reports
6.7 Safety Topic
6.8 Environmental
6.9 Any Other Business
6.10 Date / Venue Next Meeting
6.11 Minutes
7.0 Records
1.0 Purpose: This standard safety procedure provides guidelines in the setting and conducting Project HSE Committee Meetings as per the agreed schedule and frequency.
2.0 Scope: This standard instruction applies to all projects of the organization.
3.0 References
4.0 Definitions and Abbreviations
MOM: Minutes of Meeting
HSE: Health Safety & Environmental
5.0 Responsibilities
The following personnel have responsibilities for the implementation of this standard procedure at the project:
– Project Director
– Project HSE Manager / Engineer
– Construction Engineers
6.0 Procedure for Site Safety Committee Meeting
6.1 Notice of Meeting
The Committee Secretary will forward the Notice of Meeting at least 1 week before the meeting date to all relevant parties including subcontractors, consultant and client representatives etc.
6.2 Safety Agenda and Attendance
a) Safety meeting agenda will be prepared and issued to all Committee members prior to the meeting by project HSE management.
b) The safety meeting agenda should generally follow the form defined in HSE Meetings procedure.
6.3 Confirmation of Previous Minutes
After reading of the previous minutes and agreement, they are signed and accepted by the Chairman and seconded by a committee member that attended the previous meeting.
6.4 Matters Arising (include Safety, Health and Environmental Audit Findings)
6.5 Safety Representative Reports
a) HSE representatives are individuals that are chosen by the individual sections (requested by the Project Manager) to represent that section and ensure that Toolbox meetings and safety compliance is achieved.
b) They are not directly part of the HSE department, however they act as the eyes and ears for the Project Manager, in regards to all aspects of HSE in their section.
c) At the HSE committee meeting they report on the frequency of Toolbox meetings and any safety improvements that their section is aiming for.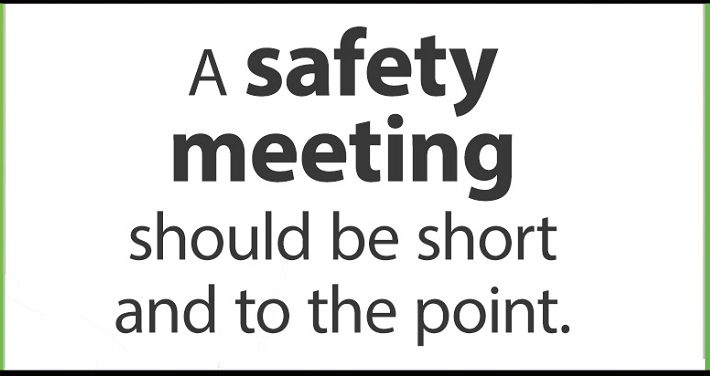 6.6 Incident – Accident Reports
All accidents and incidents are to be read out at the meeting and the completed follow up actions to be discussed. Incident trends should also be presented and discussed.
6.7 Safety Topic
The Project Manager provides 1 compulsory topic that must be the topic for at least 1 of the 4 toolbox meetings that are held in each section in the coming month. The Safety HSE representative selects the other 3 topics. Target safety topics should be derived from problem areas of last month reports.
6.8 Environmental
Discussion and compliance of environmental incidents and audits.
6.9 Any Other Business
Discuss overall project and company HSE statistics and Objects/Targets.
6.10 Date / Venue Next Meeting
Mutually discuss and agree for next safety committee meeting venue, date and time.
6.11 Minutes
The meeting is to be Minuted using the approved format for the safety meeting minutes. The minutes are to be distributed to all attendees and displayed on safety notice boards on the projects.
7.0 Records
Meeting Minutes