This Method Statement outlines methodology and acceptable parameters for all activities for construction of Pile cap foundations for the project building. In addition this method covers types of plants and machinery, sequence and area of works, testing (Quality Control), health and safety.
Plant and Machinery
Excavator – 1 No.
Crane – 1 No – wherever applicable
Truck mounted crane -1 Nos
Mini Roller / Plate compactor – 01 No.
Dumper – as per site requirement.
Dewatering pumps (if required) – 01 No.
Diesel Generators for Power supply.
Equipment (As per Site Requirements)
Wheel barrow
Shovels/spades
Scrapers & Pick Axe
Jack hammer (Electric & pneumatic)
Preparatory Requirements:
All permissions and consents have been obtained.
Ensure Approval Status of QAP.
Approval status of this Method Statement has been received.
Ensure approval status of ITP.
Maintain a system of records that permit verification of any issued report before and after work.
Prepare any necessary tool box talks records by conducting tool box training.
Ensure all plants are escorted to work site by qualified Banks man.
Make sue the work area is cordoned off.
Site briefings will be undertaken to induct all operatives in the detail of this method statement. All personnel attending will sign the briefing sheet acknowledging they understand the briefing given.
Health & Safety Requirements
Site safety induction will be carried out as per EHS Rules and policy.
All operative will receive a method statement briefing and this will be maintained as a site record.
Operative will maintain all the safety requirements for the project throughout the work duration. This will include the wearing of Safety hats, High Visibility vests & Safety boots and others as required for the job.
Trained and Skilled Operators shall be employed for operating heavy machineries like excavator, dumpers, cranes, etc.
During Excavation process, a Signal Man shall be deployed in the surrounding area of operating machineries to control the unauthorized access in the radius of machine operating zone.
Scaffolding platforms and Ladder will be used as a safe means for access and egress.
Open excavations shall be barricaded by cordoned safety tape to secure the excavating area and sufficient lighting arrangement shall be done in night to prevent accidents and ensure safety.
The Excavation area will be inspected through the Site safety personnel deputed at site.
Water Sprinkling shall be made to prevent flying of Dust and Polluting during the Excavation activities.
All Labors working in the Vicinity shall be provided with Dust mask as a precaution against dust pollution.
Preliminary Site Investigation
A preliminary site investigation report shall be maintained for the existing ground Levels and the proposed excavation levels exactly in accordance with the lines, levels, grades and curves shown on the plans or as directed as per approved Project drawings for excavation levels Layouts.
As per site conditions the entire earthwork activities shall be limited to the area inside the plot boundary.
The entire area required for construction of building area will be identified and marked with chalk powder (white) and will be barricaded with suitable hard barricading material with access.
Underground utilities shall be identified prior to start the works.
Roles & Responsibilities
Site Engineer: Produce and maintain register for reinforcement and concrete works. Ensure operatives confirm to Method Statement. Necessary instruction to surveyor on site. Ensure that correct drawings are used on site.
Surveyor: Work with engineer to establish levels for information. Carry out as-built survey works as directed by the engineer. Set up and check rotating laser level and other level control. Ensure  that site instrumentation in maintained.
Supervisor: Direct labor as requested by the engineer. Ensure operatives are working accordance with method statement.
Operatives: Carry out work as directed by the charge hand / Supervisor& Engineer.
Setting Out: The surveyor shall establish all control points (through primary datum levels) in respect to the center lines/grid lines/cutting lines, install and maintain the reference marks, benchmarks etc. and maintain them as long as required for setting out, establishing Bench Marks and other reference marks.
Site Clearance: Rock projections boulders or other hard spots, if any, in excavation shall be removed to a depth not less than 100mm below the formation level.
Sequence of Pile Cap Construction works
Dismantling of existing bituminous pavement for the entire area of construction will be done.
The surveyor will mark the foundation corners with coordinates and Underground utilities shall be marked by total station equipment and the same will be subjected to approval by Client / Consultant.
After approval for the location of foundations and underground utilities marking, excavation will be commenced with the excavator within the outer limits of marking for all the foundations. Care will be taken for the piles protection against any damage and existing utilities.
Excavation within 5m radius of underground utilities by mechanical methods shall be avoided, if not possible excavation shall be carried after approval from concerned department. Exploration holes shall be done for locating the underground utilities before mechanical excavation starts.
The excavation works will be carried out as per markings which were duly approved by Client /Consultant for all the foundations. The exaction depth is approximately 2.0 meters, so the excavation will be done by step cutting of 1.0 meter vertical height with 1.0 meter horizontal set back and again 1.0 meter vertical height to reach ground level for three sides only. 4 th side due to space constraint on existing conveyor side, excavation will be done by slope for available width only. Shoring will be done, where space is constrained for slopping and stepping.
Once the excavation is completed up to the foundation level, pile head breaking works will commence.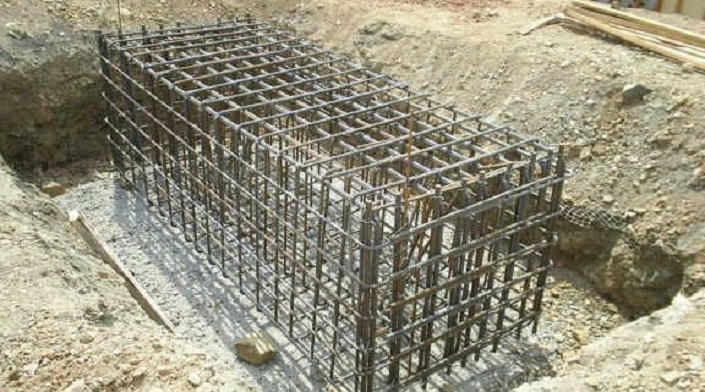 Marking will be made on each pile periphery at pile cut off level and a cut with grinder will be made on the marking to prevent excess breaking of concrete below cut off level.
Pile chipping / breaking will be done with air compressor and pneumatic concrete breaker from top of existing pile until cut off level. Suitable scaffolding platforms shall be provided for breaking above 1m height.
All the loose concrete debris will be removed with the use of Excavator. Excavator bucket will be kept at safe location and debris will be loaded into the bucket manually where the work area is small and critical by means of adjacent services. Special protection like hard covering for nearby services shall be provided.
The area will be fine leveled manually and sub base will be compacted with plate compactor / mini roller to the required degree of compaction. Will ensure 95% field density.
Required formation levels and compaction test will be subjected to client / consultant inspection and upon approval will proceed to subsequent activity.
1000 gauge polythene sheet is laid in the foundation area. Blinding concrete will be laid to a thickness as specified in approved drawing by pump or by suitable methods.
Inspection will be raised for blinding concrete for approval.
Concrete protection with bituminous paint shall be applied uniformly as per Manufacturers recommendation over the blinding surface and will be subjected to inspection and approval.
Reinforcement steel will be transported and lowered in position. Fixing of foundation reinforcement will be carried out as per the approved drawings. Thereafter, Pedestal vertical reinforcement will be fixed as per the approved drawings.
Prefabricated Doka shuttering sheets will be shifted and lowered by crane/boom truck at locations wherever access is possible otherwise conventional shuttering will be placed with adequate supports. The side shutters will be provided with adequate supports in order to achieve the required shape and sizes of the foundations after the concrete pour and shall be as per approved drawings.
Reinforcement and shuttering works are subjected to inspection before proceeding to concrete works.
Upon approval of reinforcement & shuttering, concrete of required grade will be transported to site from approved supplier and placed into form work. The concrete compaction will be ensured with concrete vibrators and needles which will be made available at site during the concrete pour.
The concrete will be laid upto the required levels and concrete surface will be finished smooth as required. Concrete pump shall be used for pouring concrete wherever applicable.
Curing will be commenced immediately after concrete is set and shall be maintained for 4 days.
After the concrete is completely set, deshuttering will be carried out after a period as specified in project specifications.
Immediately after deshuttering, if any finishing is required to be done on sides of foundation, the same will be carried out with information to Client / Consultant. If required, structural repair material shall be used wherever applicable.
Pedestals Construction
The next day after completion of pile cap concrete, reinforcement steel fixing for the pedestal works will be commenced as per the drawing.
Placing and fixing of Anchor down bolts will be done. Each anchor bolt will be aligned and fixed in line and true level as per required coordinates. All the bolts will be secured rigidly and ensure it will not be disturbed during subsequent concrete pouring activity.
Shuttering of the pedestals will be fixed in line and level and rigid supports will be ascertained to contain the concrete in required shape and size. Champers will be provided on all four edges and on top.
Champers of 35 x 35 mm, inclined length 50mm will be fixed in vertical and horizontal corners for the exposed concrete only, i.e. for pedestal only. If chambers not provided before concreting, it shall be done by use of grinders on post concreting.
Inspection for reinforcement, anchor bolts and form work will be raised for approval.
Upon approval concrete of required grade will be cast into pedestals and will ensure proper compaction by concrete vibration needles. Concrete will be done with crane bucket to prevent damage or disturbance to anchor bolts.
Curing works will commence after concrete is set and will continue for 4 days.
Form work will be stripped off after its stipulated time as per project specification.
Application of Concrete protection material (Bitumen paint) over the entire concrete surface area of foundations and pedestals up to finished floor level is done in accordance with the manufacturer's recommendation.
After the curing period, backfilling with the excavated soil will be laid in layers of 250mm loose with use of mechanical/manual methods, leveling and watering until saturation and compacted to 200 mm thick to achieve 95% of proctor density. The cycle will be repeated until required top levels are reached.
Deviation: The permissible deviation Level/Tolerances for Finished concrete works shall be as per Site Requirements / specifications / drawings.
Quality Control & Inspection Requirements
The concrete work activities will be controlled using an Inspection Test Plan (ITP). The ITP will be approved by the Consultants / Client and will include:
Hold points for Consultant / Client Inspections.
Frequency and Standard of Testing.
Test Points for Independent Testing Agencies.
Details of retained and non-retained documents.