The purpose of this procedure is to define the step by step method to implement the correct practices for the precommissioning & commissioning of "Automatic Chemical Dosing System".
Through the guidelines contained herein so as to ensure that the job execution complies with the project requirements and serves the intended function to satisfactory level.
Precommissioning Procedure for Automatic Chemical Dosing System
Ensure that the system installation is complete and mechanical completion is approved & the installed unit is as per approved material and as per approved shop drawings. Ensure that no damage has occured between mechanical completion & precommissioning.
Ensure that inlet & outlet connection of the dosing pot is completed as per approved shop drawings.
Check that the chilled water piping network is complete with proper meter, isolating & float valves, drains, vents, strainers & instruments in place.
Esnure that the flushing, chemical cleaning & addition of permanent chemicals is carried out in line with the approved method statement.
Ensure that the chilled water network is pressure tested and approved.
Ensure that chemical tank is fixed & outlet pipe is connected to the suction of the chilled water pump as per approved shop drawings & manufacturer's instructions.
Check the conductivity sensor is properly installed in the by-pass of the suction & discharge pipes.
Ensure that electrical connection from the conductivity sensor to the control panel is completed.
Ensure that the power supply to the control panel is complete.
Ensure that the control unit is connected to the BMS system.
Ensure that the field wiring is pre-tested for continuity and insulation resistance.
Check for proper installation of the chemical tank, pump & related pipework.
Check that the manual dosing pot installation is complete.
Check for identification & labelling of the system components.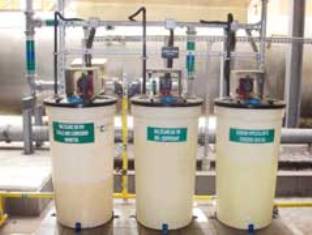 Commissioning Procedure for Automatic Chemical Dosing System
Ensure that all the precommissioning checks are carried out successfully.
Check th availability of power to the dosing system.
Fill the dosing tank upto 50 litres mark with clean potable water.
Remove the discharge pipe of the dosing pump.
Give power to the system & prime the pump.
Connect the discharge end & make sure the suction & delivery tubes are kept straight.
Check the installation of the conductivity controller.
Check the power supply to the conductivity controller.
Switch the dosing pump to AUTO mode.
Induce a low conductivity signal to the control panel & check that the pump starts. The default set point shall be decided on site by the manufacturer's representative based on the conductivity of water & the amount of final chemical added.
Check the chemical in the tank is injected to the chilled water piping.
Observe for any leakage from the unit.
Check pumps for overheating (physically sensing by hand)
Check for any undue vibration/noise.
Check the pump switched OFF upon withdrawl of low conductivity signal.
Check that BMS interface is done.
Manufacturer's recommendations shall be fully followed for operation and maintenance of the automatic dosing system.