The purpose of this safe work method statement is to define the blinding concrete (PCC) works as per the requirements of specification and drawings, considering all the necessary safety and quality aspects of the work activities. This scope of works is for blinding concrete works under pile caps and all types of foundations for the building construction project.
Note: There are many other sections as part of a standard method of statement which we are not including on this page.
The sequence of work is as under:
Soil exaction, trimming and compaction
Backfilling with Sub-base compaction to the correction levels
Surveying and fixing pegs for PCC
Anti Termite treatment and protection with polyethylene
Plain cement concrete ( PCC)
Arrange the following material for this work:
Blinding concrete
M.U
Sand
Portland Cement
Polythene sheet
Health & Safety Arrangements
Safety requirements as per project safety manual are strictly adhered to all work especially relevant to concreting.
Check signboards installed, warning lights installed, deep excavation pit protected by barriers, emergency evacuation access is available and it is sound.
All necessary personal protective equipment (PPE) will be worn by workers during the execution of works.
Sequence of  PCC Placement Work
PCC shall be placed under pile caps, raft and any structure that shall be placed on grade.
The surveyor shall provide all the levels and confirm that the fixed levels are matching with approved construction drawings.
The soil shall be leveled compacted to 95% and trimmed to the required level.
Inspection request will be raised to the consultant for the inspection for the compacted soil. Sample will be taken and send to the laboratory for the compaction test.
After the satisfactory test result for the compaction Sub base will be laid to a thickness of 250mm and compacted. Inspection request will be raised to the consultant for the inspection for the compacted soil
Formwork usually with square timber of 75mm x 75mm will be laid at the edge of the PCC and secured.
Level pads shall be made from 1:3 cement–sand mortars to maintain the required top level. At no location shall the thickness of the PCC slab be less than the specified thickness.
Anti-termite treatment is done properly before commencing the blinding concrete works.
The whole area shall be covered with 1000 gauge polythene sheet prior to start blinding concrete works.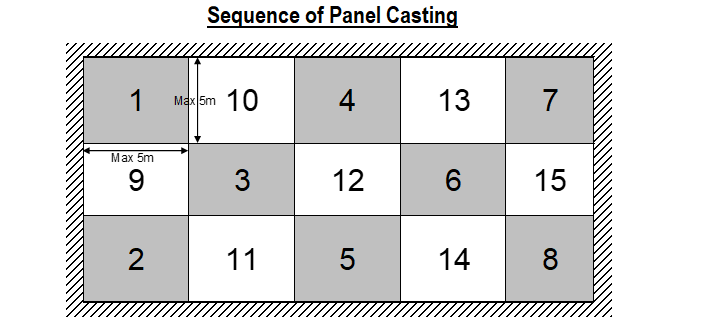 PCC Placement & Curing
The blinding concrete shall be placed using a concrete pump.
If the PCC is required to be placed in a large area than it shall be placed in panels of size not exceeding 5000x5000mm.
Panel casting sequence shall be to cast alternate panels first and then to go back and cast the skipped ones.
Curing shall start as soon as the concrete has set. The concrete surface shall be covered with hessian cloth and water shall be sprayed over it to keep it damp. Curing shall continue for 7 days.
Necessary Checklists
Setting Out
Survey work
Concreting