The purpose of this safe work method statement is to describe the systems and equipment to be used where personnel are required to perform any task where there is a risk of falling from height.
Working at height safety issues will be considered where there is a potential risk to cause injury (known as Fall Risk Position) for a person to fall in excess of 2 meters, but it must be emphasized that a fall from any height can result in injury. A risk assessment will therefore be done to ensure safety controls are in place where and when needed.
Hierarchy of Controls
For each activity that requires a person to work outside the confines of a hand-railed platform the following controls should be considered.
Consider assembly at / on ground level to allow lifting of completed components or modules.
Consider the provision of scaffolding, temporary work decks complete with handrails and toe boards, elevated work platforms, use of personnel cage
Consider the installation of temporary perimeter guardrails, light mesh fastened over open steelworks etc.
Consider the use of equipment such as harnesses, lanyards, fall arresters, static lines, etc.
Personal Fall Protection Systems
Safety Harnesses
Harnesses must only be used as per manufacturer's instructions
Harnesses are only designed to arrest falls of over 2 meter
Lanyards and inertia reels must only be connected in a manner that denies free fall in excess of 2 meter
Lanyards (Preferably double lanyards must be used)
Lanyards should be from the same manufacturer as the harness to ensure compatibly between components. Mismatches may result in the "roll out" of the hook from the "D" ring.
Lanyard hooks should not be connected directly to the static line. Riley Pulley or carabineer should be used at all times
The lanyard may be secured by the use of strops, slings or other approved anchorage devices.
Lanyards of straight rope or webbing must be fitted with a shock absorber
Always secure lanyards from shoulder height upwards not at foot level.
Never utilize a damaged harness
Inertia Reel Fall Arresters
An inertia reel fall arrester can be attached to any suitable anchor or a static line using a carabineer or a shackle.
An inertia reel should be connected directly to the harness connection point and not via the use of a lanyard.
Always consider the potential of the "pendulum effect" when using a fall arrester system in a non-vertical position. Methods to prevent this include careful selection of the anchor point, use two (2) arresters from different angles, fixing temporary cross pieces across large gaps (at right angles to arrester cable), fixing horizontal pieces in a way which will catch the cable and minimize the pendulum effect etc.
Static Lines
If using a cable it should be 10mm minimum diameter, galvanized or stainless steel with a minimum breaking force of 60kN.
The cables should be installed so as to prevent kinking or damage on sharp edges of beams etc.
The cable should be tensioned to reduce sag; however, care must be taken to ensure the cable is not over tensioned.
End connections should incorporate three (3) bulldog clamps at both ends of the cable and any anchorage other than fixing around a suitable column or beam should have a design capacity of 22 kilo-Newton. An in line shock absorber should be fitted to one end of the line.
The cable should be installed at a height of 2 meters (where appropriate) above the workforce which will ensure that the distance of any potential free fall is minimized and in no case exceeds 2 meter.
Cables and clamps should be checked by the user prior to each period of use. The check should include an examination of all clamps and the physical condition of the cable.
Using Personal Fall Protection System
Personnel must attach one end of the lanyard or the inertia reel to the top "D" loop at the back of the harness and the other end to a secure anchorage point on the building or structure [must not be hooked back on self].
The anchor point chosen where practicable must be 2 meters above level of the work to be carried out in order to limit possible free fall to 2 meters wearing a full harness.
Where a fall harness is equipped with waist "D" ring supports these supports may only be used in the same manner as a safety belt is used, i.e. both "D" rings must be used to secure the belt for hands free operation in conjunction with fall arrester connected to dorsal "D".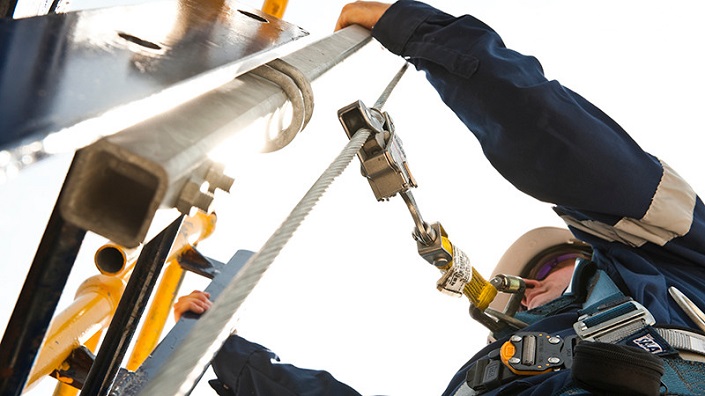 Harnesses must not be contaminated with paint or chemicals and must be free from damage.
Harnesses and lanyards must be inspected prior to each use for serviceability. If there are cuts or tears, the harness or lanyard must be immediately removed from service.
Harnesses and lanyards must be stored where they will not be damaged, preferably hung above floor level.
Lanyards must not be connected together to increase their length.
Detaching and Re-Attaching Harnesses Working at Height
If it becomes necessary to re-attach your lanyard while at height, the following method should be used.
A second lanyard should be used, ensuring the user remains coupled at all times, however, care must be taken to ensure the spare lanyard does not become a trip hazard when not in
Tools and Equipment
Where the potential exists, because of the nature of work, that tools or equipment in use could fall from the work area the following protection methods should be considered:
The use of tool straps attached to the wrist of the worker when using hand tools may be appropriate.
Areas below the activity may be barricaded to prevent access where overhead work is occurring.
Working at Heights Training
All persons required to wear fall protection must be fully trained in the correct use and maintenance of the equipment. This is conducted by the HSE Department on an, as required basis.
Inspection of protective equipment
All fall protection equipment should be inspected on a regular basis by an approved person in accordance with the manufacturer's recommendation.
Details of the inspection should be recorded on the safety harness inspection sheet and retained by the on-site stores.
Safety Harness Register
All fall protection equipment used on the project should have the item number recorded on a safety harness register. This function is carried out by the on-site stores or HSE department.