The purpose of this procedure or safe work method of statement is to define the step by step method to implement the correct practices for the testing, precommissioning & commissioning of Pressurization units.
Site team should follow through the guidelines contained herein so as to ensure that the job execution complies with the project requirements and serves the intended function to satisfactory level.
Precommissioning Procedure for Chilled Water Pressurization Units
Ensure that the unit installation is complete and mechanical completion is approved & the installed unit is as per approved submittals. Ensure that no damage occurs between mechanical completion & precommissioning.
Repair all damages to the equipment finish paint.
Ensure that the units are identified location wise and service wise.
Note the details of each motor such as make, model number, frame size, kW rating and RPM.
Check that the piping network is complete with proper meter, isolating & float valves, drains, vents, strainers & instruments in place.
Ensure that the chilled water network is pressure tested and approved.
Ensure that water tank is fixed & water pipe is connected to it.
Ensure that water pipe is fixed properly & tested.
Ensure the pumps bearings are lubricated/greased as per manufacturer recommendation.
Ensure that electrical power connections and earthing is proper.
Ensure that the control panel installation with wiring if proper.
Ensure that the field wiring is pre-tested for continuity and insulation resistance.
Check that dry run protection is installed.
Check that break tank with ball valve & water meter assembly is completed.
Ensure that all the relevant valves are in open position.
Check identification and labeling for equipment.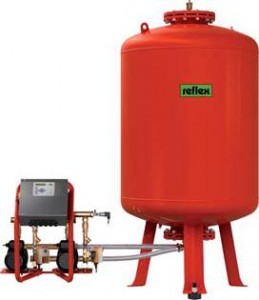 Commissioning Procedure for Chilled Water Pressurization Units
Ensure that all the precommissioning checks are carried out successfully.
Ensure the starter panel of the unit has been commissioned as per separate procedure.
Start the pump & run for 5 minutes.
Observe for any leakage from the unit.
Check pumps for overheating (physically sensing by hand)
Check for any undue vibration/noise.
Check that the unit switches ON/OFF based on the settings of the pressure switches.
Check the operation of dry run protection system in the pressurization unit.
Check the unit maintains the set pressure in the suction line of the chilled water pump.
After water balancing is completed, measure the actual amperage, voltage, speed & record all readings in performance record check sheet.
Ensure that the floater is working properly & stops water flow when water tank is filled.
Check that BMS interface is done.
Check for sequencing of the duty & standby pump i.e the stand-by pump is operating automatically if duty pump stops.
Attachments
Precommissioning check sheet for Pressurization Units
Commissioning check sheet for Pressurisation Units
Performance Test Record for Pressurization Units
Approved Precommissioning & Commissioning plan for HVAC system
Risk Assesment