The purpose of this procedure is to define the step by step method to implement the correct practices for the precommissioning & commissioning of Split AC Units through the guidelines contained herein so as to ensure that the job execution complies with the project requirements and serves the intended function to satisfactory level.
Precommissioning Procedure for Split A/C Units
Ensure that the indoor & outdoor unit installation is complete and mechanical completion is approved.  Ensure that no damage has occured between mechanical completion & precommissioning. Repair all damages to the equipment finish paint.
Check the units are installed as per the approved shop drawings & manufacturer's instructions. Check the refrigernat piping installation is complete with all the valves & accessories in line with the approved shop drawings.
Ensure the refrigerant piping network is successfully pressure tested and properly insulated. Exposed pipes shall be insulated with proper protection as per specification.
Check for proper electrical connection between the indoor & out door units & between the outdoor unit & the power supply. Ensure that the outdoor units are provided with appropriate neoprene pads.
Ensure that the 1″ dia condensate drain piping installation & insulation is complete & proper slope is maintained & connected to the nearest drain.
Check the wall / slab penetration of the refrigerant piping is properly sealed & water proofed.
Check that thermostats are fixed & related wires are connected.
Ensure that the opening around the pipe in the wall/slab are sealed properly with sleeve & sealant.
Check that the interface with BMS & Fire alarm are done.
Ensure the refrigerant pipes exposed inside the room are covered by using PVC trunking / decorative panels.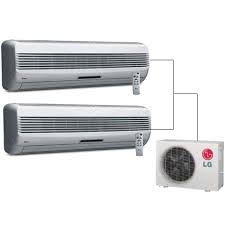 Commissioning Procedure for Split A/C Units
Ensure that all the precommissioning checks are carried out successfully.
The refrigerant piping network shall be subjected to a vacuum pressure of 30″ of Hg.
Open the refrigerant pipe valves of the outdoor unit.
Start the unit & connect the refrigerant cylinder through a manifold to the suction of the compressor & charge the refrigerant circuit. The charging pressure in the suction & discharge of the circuit
depends upon the ambient condition (approximately 60-70 psi in suction & 270-300 psi in discharge). The pressures shall be recorded in the performance record sheet.
Check the indoor & outdoor units are running without any abnormal vibration or noise.
Measure & record the current & voltage of the compressor.
Measure & record the ON/OFF coil temperature.
Measure & record the total air flow from the unit.
Check the interface of the unit with BMS & fire alarm system.
Enclosed manufacturer's recommendations shall be fully followed.
Attachments:
Precommissioning check sheet for Split A/C Units
Commissioning check sheet for Split A/C Units
Performance record for Split A/C Units
Risk Assesment