This safework procedure helps to provide guidance in carrying out the necessary measures to avoid flooding during testing and commissioning activities at the construction project.
Purpose of this method statement is to control the water flooding that may occur during commissioning activities.
Necessary Instruments, Equipment & Tools
Mechanical Plumbing Tool Kit
Flexible Hose / PVC Pipe
Multimeter
Electrical Tool Kit
Temporary Sump Pump
Roles & Responsibilities
Commissioning manager is responsible for implementing the Flood Plan during Pre-commissioning and commissioning activities. All necessary manpower, apparatus and instruments which are required for Flood Plan activities shall be supplied by commissioning team. He leads, plans, schedules and coordinates the commissioning team to implement the procedure for flood control plan.
Commissioning team is responsible to follow all Flood Plan activities under direct supervision of commissioning manager. Team shall ensure that the Flood Plan is in place prior to any testing and commissioning activities that will involve usage of drainage system.
Health & Safety Team shall ensure that all HSE requirements are followed by every individuals in order to have a safe working environment and avoid hazards. Safety permits to be prepared in advance and obtain approval as per the site safety requirements.
Isolation of the area, and warning signs display if necessary, to be carried out for any testing and energizing.
Ensure all concerned personnel shall use PPE and all other safety items as required.
Flooding Control Work Sequence
Pump Set Up
Set up temporary submersible drainage pump with Control panel at the location where sump pits are already made in the basement or approved area.
Each sump pump to be installed with necessary valve arrangement.
PVC piping or flexible hose should be installed from the each sump pit to upper level sump pit where sump pump is already installed and operational which is connected to external municipality network.
Sequence of discharging
If any water flooding occurs in the area, due to testing and commissioning activities, it will be swept to the nearest drain line assuming that the drainage piping is complete otherwise blocking of the incomplete drain line is required.
All the water will drain to the sump pit located at the basement.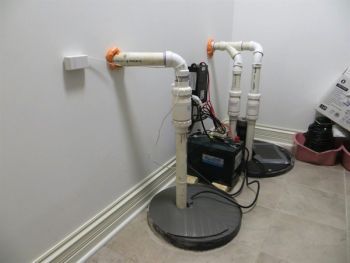 Sump pump will function based on the water level in the sump pits, which is monitored with float switch, and  will discharge to sump pit at above levels.
The collected drained water in the sump pit will be pumped to external municipality network.
HSE Control Measures
Competent Testing and Commissioning team are only allowed to carry out the installation of the Sump Pump and PVC distribution line.
Preliminary Checks to ensure a safe working environment: Visually inspect the power tools for the damages, work area for sufficient lighting, safe access (ladder or scaffold platform) and free from other apparent hazards.
Get a written permit to work (Restricted Access Permit) from the HSE Department.
Ensure the areas are free from dust and construction debris.
Scaffold platform must be erected and inspected by trained competent employees only.
Competent Operatives from the T&C Team will only be allowed making the appropriate connections to the Sump Pumps and to the PVC Line. Arrange sufficient lighting (provide task light).
Conduct a special training and explain all the employees regarding the hazards, precautions and emergency procedures.
Before start doing the testing evacuate all other workers, combustible materials and unwanted tools from the work area.
Ensure adequate power supply through isolating devices RCD's: ELCB/GFCI.
Maintain housekeeping throughout the work activity.
Responsible site engineer must be present at all the work area to ensure the work being conducted safely as low as reasonably practicable.
Take reasonable care always while working and if there is any potential for a significant risk of injury/ property damage then do not continue the work until it gets resolved safely.
Segregate the work area with sufficient number of warning signs and waning tapes.
Leather hand gloves shall be used while installing the sump pumps. Do not drop down the sump pumps through the access ladder.
Use face mask and transparent safety goggles while using the power tools and using the chemicals.
Follow the safe working procedures that are mentioned in the approved CoSHH Assessment of PVC Cement while using it for jointing the PVC Pipes.
Display suitable numbers of Emergency Contact Numbers on the remote locations as necessary.
Any spillage in the work area shall be cleared immediately.
Inform all accidents and near misses to the safety team immediately.