This civil work instruction procedure provides a method of control for construction of block masonry work in order to achieve compliance with the contractual project specifications and construction drawings for block work.
All precast concrete masonry block work will be carried out in accordance with the project specifications.
In any circumstance where specifications are not provided or in any way incomplete, the matter shall be referred back to consulting engineer's representative for additional information.
Checks prior to start of block work
Ensure that the area to receive the block work is as per the contract drawings and approved finishing schedule.
Check if preceding activities have been inspected and approved.
Ensure that blocks are procured from approved manufacturer(s). Except where otherwise approved in writing each material shall be obtained from a single source.
Source certificates shall be obtained for all raw materials e.g. sand, cement and blocks to show compliance with the contract specification.
Handling and Storage of Materials
Blocks shall be delivered to site palletized, off loaded as near to the point of use as practicable on a clean hard surface free from contamination by mud or surface water.
Cement shall be stored off the ground, kept dry and used in order of delivery.
Store metal ties and straps under cover and protect them from damage and distortion.
Preparation of work, materials and components:
When the materials and components are distributed to the work area, ensure that the structure is not overloaded.
Plan for scaffolding material required for block work at heights.
Plan for additional manpower for lifting blocks at heights.
Set out anticipating the position of openings etc. in the work above to avoid unnecessary cutting and adjustment of masonry units leading to incorrect or uneven bonding.
Preparation of mortar mixes:
Mortar shall be mixed by machine except for small quantities only (not containing plasticizer). Hand mixing (if permitted) may be done on a watertight platform.
When mixed at site, batch boxes shall be used to ensure correct and consistent mix proportions.
Use mortars (other than retarded mortars) within 2 hours of mixing or as specified.
Block Wall Building Procedure
Build block wall within permissible deviations as specified.
Unless otherwise specified/permitted, lay blocks on a full bed of mortar and fill all joints.
Keep courses leveled and prepend vertically aligned.
Plumb quoins and all faces as the blockwork proceeds. It is preferable to Align vertically every fifth or sixth perpend and 'even out' the size of intermediate joints.
Try to keep horizontal joints of uniform thickness.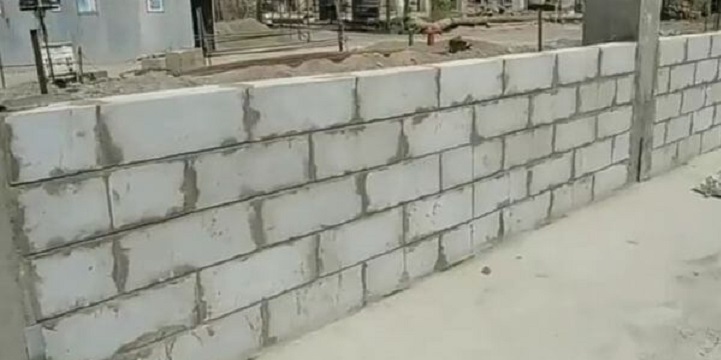 Do not carry one course more than the height specified in the contract block work specifications.
Rake out joints as work proceeds, on all faces to be plastered or rendered. This will provide a good key for the coating.
If pointing is specified, the mortar used for the pointing should not be stronger than that used when constructing
the wall unless specified otherwise.
All  block  work shall be bonded to adjacent reinforced concrete structures by means of galvanized mild steel cramps at specified spacing unless specified otherwise.
Partitions shall be bonded to main walls by toothing as specified in the contract.
Chases and Holes in Blockwall
Cut chases and holes neatly and without damaging the walls as per the following unless specified otherwise:
Chases in block work to be less than 75mm.
For hollow units maintain a minimum of 15mm thickness between bottom of chase and void.
Do not cut horizontal or raking chases to a depth exceeding one-third the thickness of the single leaf in walls or leaves contracted of solid units.
Holes shall not exceed 300mm x 300mm unless specified otherwise.
Do not cut chases back-to-back exceeding the dimensional restrictions. Offset such chases in line by a distance at least equal to the wall thickness.
It is preferable to use mechanical rotary cutters, particularly when it is necessary to avoid heavy impact and vibration.
The number and position of chases shall be strictly in accordance with the specification since unauthorized chasing might adversely affect one or more of the functional requirements of the walls e.g. its load bearing capacity.
Quality Checklist for Block Work
Setting out (openings etc.)
Check source certificates of blocks, sand and cement.
Check mix proportion of mortar.
Check alignment/width of perpends.
Check line and level of courses.
Check metal ties.
Check raked out joints.
Check toothing at joint of main wall with partitions.
Check compliance of chases with specifications.